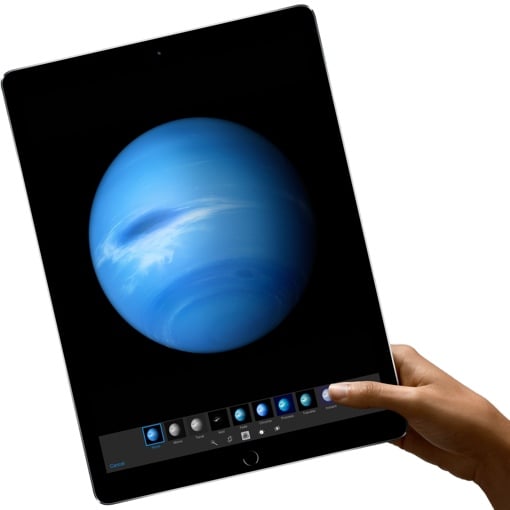 Today at a major press event in San Francisco, Apple unveiled its new iPad Pro, an extra-large tablet with desktop-class performance aimed at professionals and other high-end multimedia users.
The iPad Pro has a giant 12.9-inch diagonal screen with 2732 x 2048 resolution (264 ppi). That's a total of 5.6 million pixels, more than the screen of a MacBook Pro with Retina display. And it's not just visuals that are getting a boost here – the iPad Pro has four speakers that pump out three-times louder sound than you're used to. Given how disappointingly quiet the speakers on my older Apple iPad are, this is a very welcome upgrade to be sure.
Under the hood, this tablet has a number of performance upgrades over existing iPad models. The new third-generation, 64-bit A9X chip is 1.8 times faster than the A8X in last year's iPad Air 2. The graphics processor, meanwhile, is 2 times faster, making for smoother gameplay and impressive 3-D modeling. There's a powerful 10-hour battery built in too. None of this weighs the tablet down, however: The aluminum-body iPad Pro is 6.9 mm thin and just 1.57 pounds.
You can extend the functionality of the iPad Pro even further with new accessories Apple designed for the new tablet. The Apple Pencil ($99) is a smart stylus that measures force and tilt, making it ideal for graphic design work and hand-written annotations in Microsoft Office. It can be used simultaneously with your fingers and a ruler, and recharges via Lightning. And when you need to add text to your project, a new smart cover accessory with a full-size keyboard will be available for $169. It connects directly to the new iPad Pro via a new type of magnetic connector, so there's no need to mess around with Bluetooth pairing.
The iPad Pro will be available in silver, gold and space grey finishes when it launches in November alongside its assorted Apple-branded accessories. It carries a higher price point than existing iPad models, however: The 32GB version starts at $799; a 128 GB model is available for $949 ($1,079 with 4G LTE). For more information, visit the Apple website.
Apple also announced a new version of the iPad mini tablet, the iPad Mini 4. It has very similar internal specs to the iPad Air 2 (A8X) in a smaller 7.9-inch size. The 0.65-pound tablet will retail for $399 when it goes on sale this November.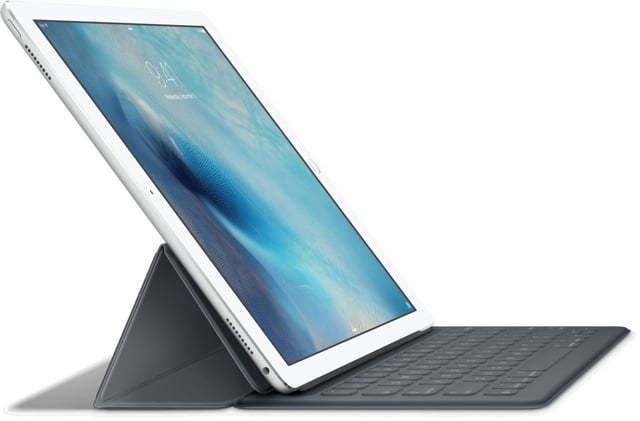 [Image credit: Apple]