Apple fans, get ready to empty your wallets, because today the company announced a slew of new gadgets—including the most expensive iPhone yet. In addition to the expected iPhone 8 and iPhone 8 Plus, which look a lot like last year's models, we also have the all-new iPhone X, which features an impressive new edge-to-edge screen. All of these phones are faster than the last generation, with better cameras and wireless charging functionality. iPhone 8 models will be available before the end of the month, with the iPhone X following in November.
That isn't all: we're also getting a new Apple Watch. The Apple Watch Series 3 is the first to feature LTE, which lets you do anything you need even if you leave your phone behind. And, finally, the Apple TV is getting a much-needed 4K upgrade. Like the iPhone 8, the Apple Watch Series 3 and Apple TV 4K will be out before the end of the month.
Whether you're buying any new gear or not, software updates are coming soon, too: iOS 11 and watchOS 4 are both due out on September 19.
But that's just the highlights. Keep reading for all the details on these new devices.
The latest iPhone 8 boosts performance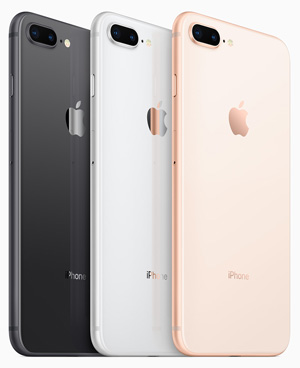 Apple makes the iPhone more powerful every year, and this year is no exception. The iPhone 8, iPhone 8 Plus and iPhone X all feature the new A11 Bionic chip, which features a six-core processor compared to last year's four-core processor. Two of these cores are high performance for power demanding apps and games, while the remaining four are high efficiency to handle less demanding tasks while preserving battery life. The high-performance cores are 25% faster than last year's, while the high-efficiency cores are a full 70% faster. A new Apple-designed GPU handles graphics for 30% faster performance. And if that's all technobable to you, that's okay: it just means these new iPhones are a lot faster than the last generation, ready to run 3D games and augmented reality applications.
Improved rear-facing 12MP cameras—one on the iPhone 8 and two on the iPhone 8 Plus and iPhone X—have a new sensor that lets in 83% more light for sharper images, particularly in low light. You'll also see better color saturation and lower noise, both of which noticeably add to image quality. And as with iPhone 7 models, the dual camera setup of the iPhone 8 Plus and iPhone X can capture pictures you might assume were taken with a high-end DLSR. An updated portrait mode on these models also lets you improve the lighting of faces and backgrounds: and this isn't done by filter, but by real-time analysis of light on the subject's face. That means photography studio quality in a simple smartphone snapshot. On the video front, the new iPhone can record in 4K at 60 frames per second, or catch slow motion in 1080p at 240 frames per second.
The iPhone 8 models look similar to the iPhone 7 models, but an updated design is made of aerospace-grade aluminum with a glass front and back—and because it's the most durable glass ever used on a smartphone (according to Apple), you can worry less about damage (fingerprints, however, are likely). The screen, too, could be mistaken for an iPhone 7's, but Apple has added True Tone to the Retina HD display, which adjusts color based on ambient lighting so what you see on screen is more true-to-life.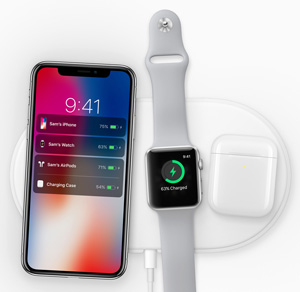 But perhaps the most exciting feature is wireless charging, which allows you to set your iPhone down on a charging pad without fiddling with cables. Charging is done through the Qi open wireless charging standard, so you'll be able to use third party chargers, too. And next year, Apple will be releasing the AirPower charger, a larger charging pad that can charge your iPhone 8, Apple Watch Series 3, and AirPods (with their new wireless charging case) all at once.
The iPhone 8 and iPhone 8 Plus will be available in silver, space gray, and a new gold color. Storage space on both models has been increased, with a 64GB model and a 256GB model. The iPhone 8 starts at $699 (or $849 for the 256GB model) while the iPhone 8 Plus starts at $799 (or $949 for the 256GB model). You can pre-order this Friday, September 15, and the phones will ship on September 22.
The iPhone X redesigns the iPhone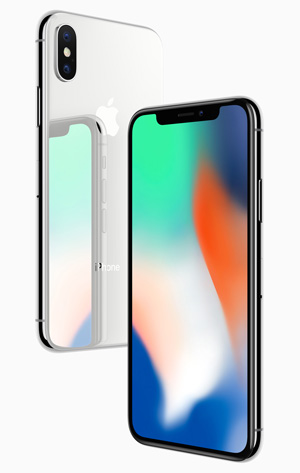 While the iPhone 8 and iPhone 8 Plus improve on last year's iPhone designs, the iPhone X is all different. Existing iPhones have a large bezel on the top and bottom of the screen to accommodate the front-facing camera and home button, but the iPhone X dedicates every inch of space to its screen, ditching the home button and cutting down on the size of the camera. It has a 5.8" screen—compared to the 5.5" screen on iPhone Plus models—but the phone is significantly smaller than the iPhone Plus. The iPhone X is just 5.65" tall and 2.79" wide compared to the iPhone Plus at 6.24" tall and 3.07" wide. That makes the X just a little bigger than the iPhone 8 while having a lot more screen space. It should be an easier phone to carry, whether you're trying keep it in a pocket or trying to reach buttons one-handed.
And that screen is pretty impressive. The X has what Apple calls a Super Retina HD display, with 2436 x 1125 resolution at a crisp 458 pixels per inch. It's the first iPhone with an OLED HDR display (higher resolution variants are already found on some of its competitors, such as the Samsung S8 and the LG G6), which means it's brighter, with more vibrant colors. You'll definitely notice the difference in quality between the iPhone X and the iPhone 8.
Ditching the home button means the iPhone X works a little differently. Instead of tapping the home button to wake your phone or return to the home screen, you just swipe up on the screen. (And with swiping up replacing the home button, a swipe down from the upper right will now open the control center.) All in all, the system looks smooth and easy to use, and we don't think you'll miss the home button, but we'll see how that shakes out.
Losing the home button also means losing Touch ID, which is being replaced by Face ID. This is Apple's new facial recognition system, and it will let you unlock your phone or use Apple Pay with just a glance. It makes use of the new TrueDepth front-facing camera, which is packed with technology that lets it accurately and consistently recognize your face. When you look at your phone, it maps your face in real-time, tracking 30,000 points and comparing them to the stored image of your face. It works in the dark and knows it's you even if you put on glasses or change your hair.
You may have read reports of facial recognition being fooled by still photos, but Face ID doesn't have that problem. The camera detects depth, which means a flat image won't trick it, and it requires you to actively look at the phone with your eyes open so your roommate can't unlock it while you're napping, either. Touch ID could mistakenly unlock your phone 1 in 50,000 times, but Face ID reduces that to 1 in 1,000,000, according to Apple. Though we're not sure fingerprint hacking was ever a big concern for the typical Apple user.
Some silliness comes with these high-tech facial mapping features, too. New Animoji are animated emoji based on your actual facial movements. Just make faces at your phone and it will transform them into Animoji you can send via Messenger. Perfect for every teenager and young 20-something with the $1,000+ to shell out for the iPhone X.
For photography, the iPhone X rear-facing cameras are much the same as the iPhone 8 Plus rear-facing cameras, but the X includes optical image stabilization for both cameras rather than just one. But the front-facing TrueDepth camera is a big improvement, letting you use the Portrait mode for some killer selfies.
Perhaps best of all, the iPhone X has two more hours of battery life than the iPhone 7— while the iPhone 8 and iPhone 8 Plus maintain the same battery life as their predecessors.
However, the price tag on this phone may be a dealbreaker. It will be available in silver and space gray, with 64GB or 256GB of storage space. The iPhone X starts at $999 (or $1,149 for the 256GB model).
You can pre-order on October 27, and the phone will ship on November 3.
Apple Watch goes cellular with Series 3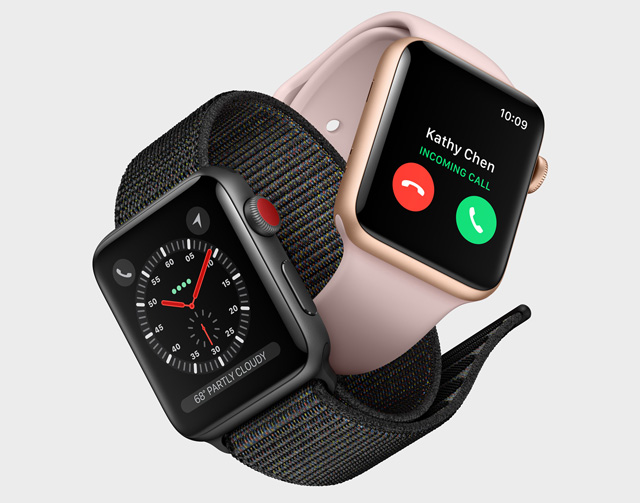 Built-in cellular service is the big new feature for the Apple Watch Series 3, letting you take calls, send messages, look up directions, use Siri, and stream music even if you leave your phone at home. It should work seamlessly with your iPhone, using your existing phone number and even automatically switching your Find My Friends location to your watch when you leave your phone behind. The sound quality for calls is particularly impressive, with clear audio even in a noisy environment with the watch's microphone away from your face.
But there are a bunch of improvements beyond the addition of cellular service. The processor is a full 70% faster than the old Apple Watch and Wi-Fi is 85% faster, meaning your watch will be more responsive no matter what you're doing. The heart rate sensor has been improved to give you better data, too, with more information on your resting heart rate, recovery rate and heart rhythm—data that Apple is using to help track health problems like arrhythmia and sleep apnea. Despite all the new tech Apple has crammed into the Series 3, it's only slightly bigger than the Series 2 so it won't add any bulk to your wrist.
The Apple Watch Series 3 will be available with cellular for $399 or without cellular for $329. But if you aren't impressed by the Series 3—or you're just on a budget—the Series 1 will still be available for $249. The Series 2, however, is gone.
You can pre-order this Friday, September 15, and watches will ship on September 22.
Apple TV finally supports 4K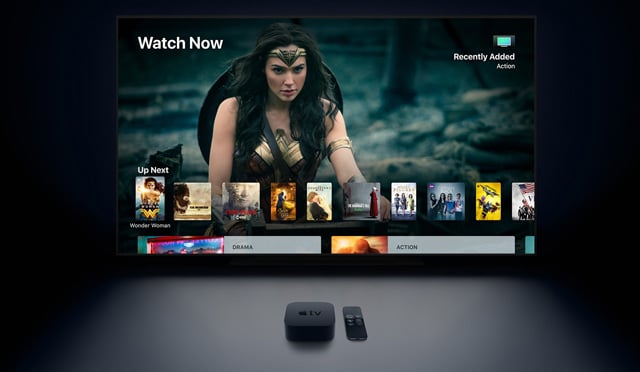 Last but not least among today's Apple announcements is the new Apple TV 4K. The latest version of Apple TV finally upgrades the system to 4K resolution—and while 4K makes for some bandwidth-intensive streaming, the picture quality is incredible if you have a 4K TV and 4K media. But perhaps more important than 4K is the addition HDR (Dolby Vision and HDR10 support), which adds brighter, more vibrant colors—though, again, you'll only see the improvements if you have a television that supports HDR and HDR encoded media. These are features which have been available on the Roku Ultra (HDR10 only) for some time, and Apple TV needed to catch up to stay competitive as a streaming device.
That said, Apple has been hard at work lining up 4K content for you to watch. iTunes is adding 4K video from major studios including 20th Century Fox, Lionsgate, Universal, WB, Paramount and Sony. New 4K content will be available for the same purchase price as HD content, and your old HD videos will be upgraded to 4K for no charge. Netflix will also be available in 4K and, new to the platform, Amazon Prime Video will add to your 4K options, too.
In addition to better graphics, the Apple TV 4K has more processing power with the A10X Fusion processor—the same chip that powers the iPad Pro. That means smooth video playback and more power for apps.
A software refresh rounds out the new Apple TV's features: the UI has been redone for 4K resolution, and live sports and news have been added to TV app. Though there's nothing particularly revolutionary here, these are all welcome updates for Apple users.
The Apple TV 4K starts at $179 with 32GB of storage space (or $199 with 64GB of storage space). With the Roku Ultra currently under $100, that's a definite premium. You can pre-order this Friday, September 15, and Apple TV 4K will ship on September 22.
[Images and videos credit: Apple]