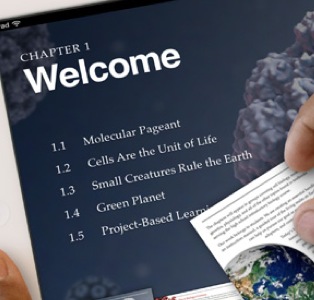 Students used to give teachers apples, now Apple wants to give something to all students, an IPad. In an event in New York City yesterday, Apple announced new software that they hope will change learning, teaching and the business of educational publishing.
Central to Apple's presentation was a big update to their iBooks app. They also introduced two new apps that aim to change the way textbooks are created and used. One, iBook Author, will allow textbook writers and publishers create content that is optimized for the iPad. Another, iBooks 2, updates Apple's iBooks app with new study and note-taking features. Lastly, the presentation included apps for teachers for iPhone and iTunes U.
Textbooks on the iPad, Apple hopes, will replace the physical textbook, which Philip W. Schiller, Apple's senior vice president of marketing labeled as too heavy, expensive, not portable, not durable, and not interactive. Though modern textbooks have "great content," according to Schiller, they are "clearly not the ideal learning tool anymore."
iBooks 2 comes with the ability to highlight important passages, view 3D models, videos and images, make flashcards, look up words in the dictionary within the application, search through the book and more. The application is free to download in the iTunes store
With iBooks 2, the first textbooks would be available immediately for $15. The high school texts will initially come from publishing partners Pearson, McGraw-Hill and Houghton Mifflin.
Apple also introduced iBooks Author, a content creation platform for authors of both textbooks and other works. At the event, Apple focused on textbook authoring, displaying a What-You-See-Is-What-You-Get application for Mac computers that enables writers and publishers to create content-rich books in an application similar to the company's Notes and iWork apps. That app is also free and will be available in the iTunes store.
Besides the textbook-focused apps, Apple also revealed iPhone and iPad app for iTunes U, which will allow teachers to create syllabi, share videos of their lectures, and publish class notes for their students.
Implicit in the release of all these new tools for education, is the need for schools themselves to get iPads into students' hands. Though many school districts have begun outfitting students with tablets – both Apple and Android devices – the cost of bringing iPads to all students will prove prohibitive, to say the least. In short, full scale adoption of Apple's admirable vision will take many years.