According to Apple, "everything about [the new Watches] has been redesigned and re-engineered," including innovative first-ever heart-monitoring functions.
Like the new iPhones, the new Series 4 Watch – available for pre-order this Friday (September 14, 2018) and available September 21, 2018, at $399 for the Wi-Fi version and $499 with cellular connectivity – also sport larger screens than their predecessors. The display on the smaller version grows from 38mm to 40mm, a 35 percent increase, and the larger version increases from 42mm to 44mm, a 32 percent increase. But the Watch face itself isn't appreciably larger since the display now stretches from edge-to-edge with slightly curved sides similar to the new iPhones.
Physically, the crown has been redesigned with haptic feedback to give it a more mechanical feel; you sense a click as you turn it to scroll through lists. The Watch's speaker is 50 percent louder to make callers easier to hear, and the microphones have been moved to the other side of the Watch to avoid feedback and echo on calls.
Watch's rear is now made entirely of black ceramic and sapphire crystal that allow radio waves to more easily pass through, improving cell, Wi-Fi and GPS reception.
Technically, Watch runs on a new 64-bit S4 chip that promises twice the performance and speed of operation, along with next-generation accelerometer and gyroscope that samples motion eight times faster. One practical benefit of these upgrades is that Watch is now able to accurately detect falls, differentiating them from other similar movements. When the Watch detects you've fallen, it generates an alert that enables you to one-tap make an emergency call. If you're immobile after a fall is detected – and perhaps unconscious – more than a minute, the Watch will automatically call an emergency contact, and include location information.
The varying Watch technical upgrades also enable a first-ever feature; Watch Series 4 will perform an FDA- and American Heart Association-approved electrocardiogram (ECG), the first over-the-counter direct-to-consumer ECG device. Wearing the Watch, you simply place your finger on the crown for 30 seconds; the ECG app then generates a heart rhythm classification and can detect potential atrial fibrillation symptoms that can presage a heart attack.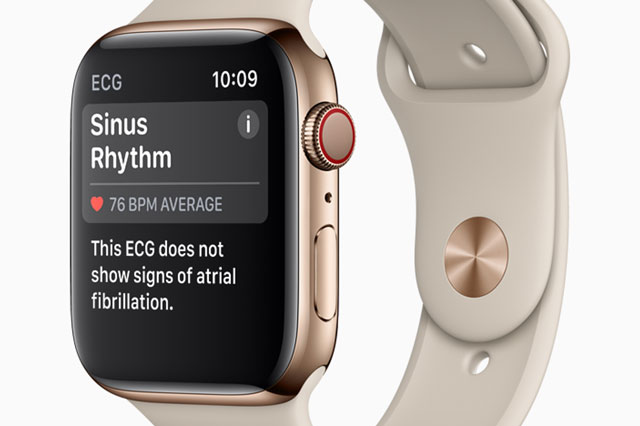 New apps also can notify you if your heart rate is too low, and can continually track your heart rhythm and will notify you if atrial fibrillation irregularities are detected. These new heart monitoring features will become available later this year.
More pedantically, the Watch OS5 software allows you to squeeze up to eight "complications" – temperature, time, calendar events, etc. – on a face, as well as photos of friends or family to enable on-tap contact connections.
Old bands will fit the new Watches, and new bands from Nike and Hermes also are due.
Watch OS5 will be available for installation on previous Watch versions, except the original, on Monday, September 17, and pricing on Series 3 Watches will drop to as low as $279 as of today.
[Image credit: Apple]