You've snapped a photo with your iPhone's camera. You've written a document on your iPad. You've updated your calendar or address book on your iPod Touch. You bought a song on iTunes on your Windows PC.
Right now, that photo, that document, that calendar or contact update, that song is pretty much trapped on the device on which it was created or bought. Yes, there are ways and apps to transfer that info from the device on which it originated to other devices, but none of them are exactly seamless.
Apple's iCloud announced this morning, part of the next-generation iOS 5 Apple iPhone/iPad/iPod Touch operating system, solves this content/device prison and creates – you'll excuse the expression – a new content/device paradigm.
Apple's idea is that the memory in your device should not be the primary place where your content is stored or accessed from. Instead, it is automatically uploaded and stored in a place where it can be accessed by nearly any device.
iCloud is a largely free service that uses the cell network or Wi-Fi connection to automatically upload photos you snap, documents you create or music you've bought to Apple's remote data storage servers, and makes this content automatically available on all your other Apple portable devices and/or PCs, both Macs and Windows.
In many ways, iCloud works the same way as your email – you can view and answer your email on any device, and it always remains updated regardless of which device you view it on. Apple expands this seamless universal access to all content.
iCloud's most prominent feature is allowing you access to your PC-based iTunes library wherever you are – instead of loading your iPhone/iPad/iPod Touch with memory-hogging music files, you can stream or selectively download your music to your phone. So your next iPhone can have less memory, which means you won't have to spend as much.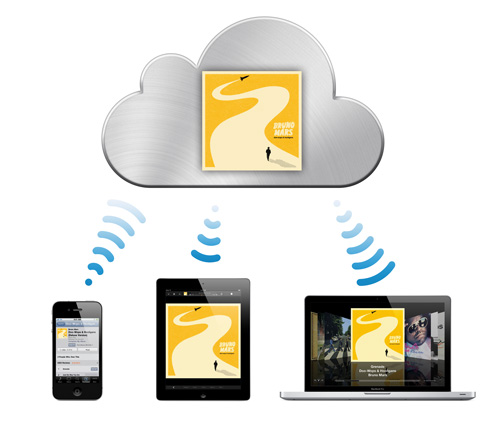 Any music you've bought via iTunes can be accessed via iCloud. But the music industry is sensitive about its intellectual content. Just because you bought music on iTunes or especially on CD doesn't mean you have the right to do what you want with it. So Apple had to spend a reported $150 million to buy this right for you.
The result is, Apple can now scan your iTunes library (with your permission, of course), find all those tracks you've copied (or "ripped") from a CD and imported into iTunes, and find their duplicates in its 18 million-track iTunes catalog for iCloud streaming on up to 10 devices.
This service is called iTunes Match and is why the iCloud music option will cost $25 a year. Apple says this is cheaper than Amazon's Cloud Drive (Google's Music Beta is as yet unpriced), though that's not exactly true. Amazon's Cloud Drive is free for the first 5GB and $20 for 20GB, enough for 4,000 songs. It's only when you get to Amazon's 50GB option for $50 that Apple offers a price advantage.
The real benefit for iTunes Match is that it will save you hours, if not days, of uploading time to get your music into the cloud. Neither Amazon nor Google made deals with the record labels, so you'll have to upload all your music to those services yourself.
How all this will work in the real world remains to be seen – iCloud won't be available until the fall, along with the next-generation Apple iPhone/iPad/iPod Touch operating system, iOS 5, which presents a plethora of new functions and features, many of which already have been available on Android phones, and the next-generation Macintosh operating system, OS X Lion 10.7.