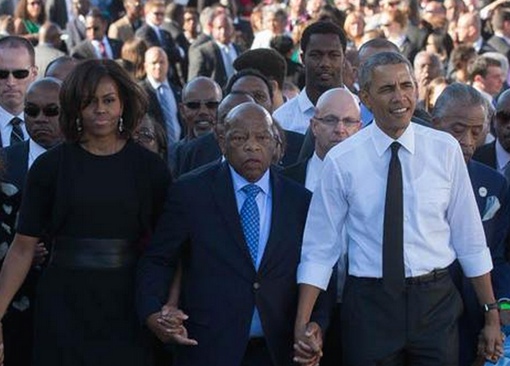 The president of the United States finally has his own Twitter account. Yesterday, president Barack Obama personally took the helm of the new @POTUS Twitter handle, an official government account for the president meant to be passed down from president to president.
Previously, Barack Obama posted signed comments to Twitter through the @WhiteHouse handle, which also belongs to the U.S. government. But others from his staff post official government business from that account as well. All Tweets from this new account will always come from the president himself.
Hello, Twitter! It's Barack. Really! Six years in, they're finally giving me my own account.

— President Obama (@POTUS) May 18, 2015
The president's new Twitter account was welcomed online by a number of celebrities and prominent politicians. In fact, Obama had a brief back-and-forth with former President Bill Clinton shortly after joining, joking a bit about Hillary Clinton's presidential bid. "Know anyone interested in @FLOTUS?" the president asked of Mr. Clinton.
The tweets are being sent from an iPhone registered to the Executive Office of the President, a device used solely for this purpose. The President's main communications device is a specially designed BlackBerry that has been extensively researched and tested by the Department of Defense for security reasons.
You can view the president's new Twitter account by visiting twitter.com/potus. If you're new to the Twitter social network, you can download the Twitter app for Android via Google Play or the Twitter app for iOS via the Apple App Store. Then check out our Twitter 101 primer to learn how to discover cool new stuff with your account!
[Image Credit: The White House]