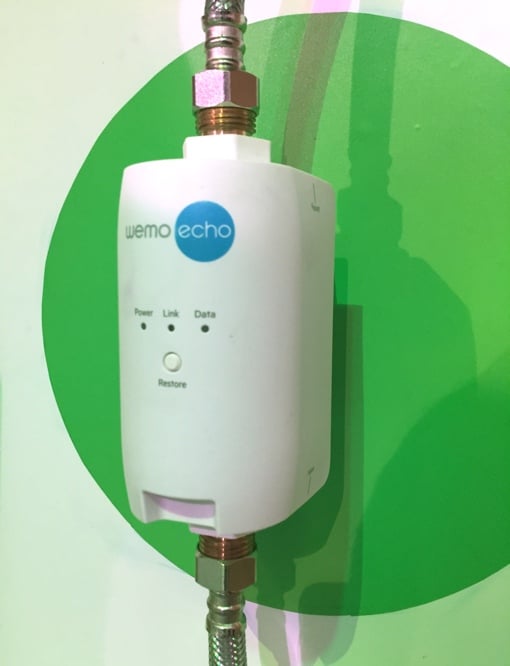 Over the last few years home networking company Belkin has become one of the largest players in the smart home industry. Its WeMo line lets you remotely turn on lights, control electrical outlets (and calculate electricity costs) and even start dinner in its Wi-Fi enabled Crock-Pot. But its latest product, unveiled at CES 2015 in Las Vegas, its most intriguing product yet: The WeMo Water with Echo Technology, a smart device that calculates and analyzes your whole home water usage in real time.
WeMo Water easily installs under your kitchen sink and plugs into the same power outlet reserved for your garbage disposal. A sensor inside the WeMo Water uses "Echo Technology" to sense water pressure changes and pipe vibrations throughout your entire house. A learning algorithm then associates each vibration signature with a plumbing fixture – one might be associated with your washing machine; another might be associated with the touchless toilet in your master bathroom.
Once WeMo Water gets a full picture of your home's fixtures, it begins to calculate water consumption per fixture in gallons, along with the duration of use and the cost of water used. It will enable you to figure out who in your family might be wasting water by taking extended showers or leaving faucets running unnecessarily long. More importantly, it can also help you spot home disasters before they happen by alerting you to leaks, drips and other damaging, costly issues.
According to Belkin, the WeMo Water is currently undergoing field testing. It is expected to be available sometime later in 2015. Pricing has yet to be announced.
[Image credit: Fox Van Allen for Techlicious]