Updated on 7/12/2023 with new deals
If you're looking for great deals on tech products, the next two days of Amazon Prime Day – July 11 through July 12 – will be your best opportunity to bargain hunt until Black Friday. The sheer volume of products on sale can be overwhelming, some of the best deals are time-limited, and, of course, you need to do your due diligence to ensure that you're actually getting a good deal (check out our tips on how to get the best deals on Amazon Prime Day). So, to help get you started, I've pulled together a curated list of deals I've vetted to be great bargains.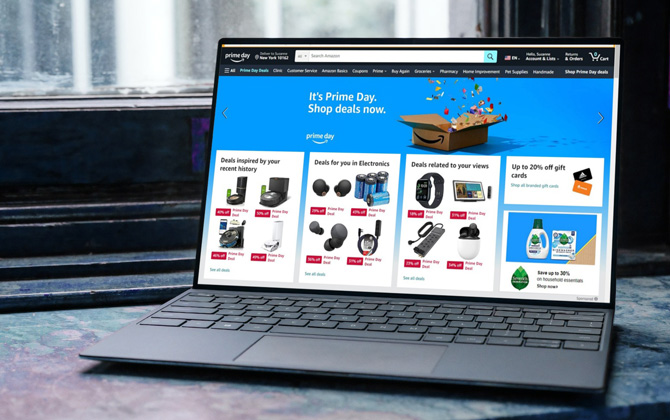 Televisions
43-inch Amazon Fire TV Omni Series LED 4K UHD – Price: $99.99 (save $300.00)
This incredible deal is "invite only," meaning you have to request an invitation to get access to the deal. If you're one of the lucky ones, the Omni series TVs receive high marks from professional reviewers and come with Fire TV baked in.
The 65-inch model is also a good deal at $559.99 ($200 off), as is the 75-inch model at $719 ($330 off). All models are available through the 43-inch model link above.
58-inch Hisense U6HF QLED 4K UDH TV – Price: $349.99 (save $250)
The Hisense U6HF series TVs are considered some of the best in the entry-level category, with solid performance for movies in even brightly-lit rooms. And it's built on the Fire TV platform for easy operation. The 50-inch model is on sale for $299.99 (save $230) at the link above.
85-inch TCL Q7 QLED 4K UHD TV – Price: $1,499.99 (save $700)
The new TCL Q7 series hits that sweet spot between price and performance, earning top marks from us, as well as other professional reviewers. If you're looking to go big for your next TV, this model should be on your shortlist. It has a 120Hz native refresh with a 144Hz variable refresh rate for gaming, and Google TV will be your TV OS.;
65-inch TCL QM8 Mini LED 4K UHD TV – Price: $1,199.99 (save $500)
The QM8 series is TCL's new high-end series featuring Mini-LED sets for excellent 4K picture quality. This display technology is a step up from QLED. Like the Q7 series, the TVs have a 120Hz native refresh rate but with a 240Hz variable refresh rate for gaming. It has class-leading brightness, excellent HDR performance, and accurate color reproduction. It was a great deal before it went on sale and even better now. The 75-inch model is also on sale for $1,699.99 (save $600).
55-inch LG C2 Series OLED evo 4K UHD TV (2022 model) – Price: $1,096.99 (save $403)
The C2 series is LG's 2022 line of mid-range OLED TVs, and they are stunning. They have some of the highest picture-quality ratings in the industry, with superb black levels and fast response times for gamers. And for OLED TV, it's bright. The consensus among professional reviewers is that this year's C3 model doesn't bring much more to the table, so snap up this deal.
55-inch Samsung The Frame (current model) – Price: $987.99 (save $510)
We fell in love with The Frame (2022) and gave it a Techlicious Top Pick of CES 2022 award. While not on deep discount, the product has just launched, and it's at its lowest price to date. Also on sale are the 65-inch for $1,597.99 (save $400), 75-inch for $1,997.99 (save $1,000), and 85-inch for $3297.99 (save $1,000) through the same link above.
The 32-, 43-, 50-, 55-, 65-, 75-, and 85-inch models are also on sale through the same link. The 75-inch is
65-inch Samsung QN90C Neo QLED 4K UHD TV – Price: $2,097.99 (save $700)
In our testing, we found the QN90C to be a movie lover's dream, "delivering one of the most accurate pictures available in a 4K TV, with plenty of brightness, and without compromises in clarity or color, making it one of the top TVs at any price." The display has a 120Hz native refresh rate, Mini-LED backlighting, and superb video processing. You'll also find the 55-inch model on sale for $649.99 (save $148), and the 85-inch model is on sale for $1,697.99 (save $600) through the link above.
75-inch Samsung QN90B Neo QLED (2022 model) – Price: $2,049.99 (save $1,450)
In our testing in 2022, we found the QN90B to be the all-around best 4K TV, making it an excellent choice for gaming, streaming, and even use as a PC monitor.
Streaming media players
Fire TV Stick 4K Max – Price: $24.99 (save $30.00)
The Fire TV Stick 4K Max is my favorite Fire TV stick because it has WiFi 6 for better streaming, a fast processor for smoother apps, a voice remote, and picture-in-picture to stay on top of live TV.
Fire TV Stick with Alexa Voice Remote – Price: $16.99 (save $23.00)
If you need streaming apps for cheap and don't need 4K, this is a no-brainer.
Roku Streaming Stick 4K – Price: $34.99 (save $15.00)
The Streaming Stick 4K sits in the middle of Roku's lineup with 4K streaming with support for Dolby Vision and HDR10+ and reliable 802.11ac dual-band MIMO wireless. The only thing missing is the fancy Voice Remote Pro, which is rechargeable and has hands-free, voice-activated operation. If you need the better remote, you can add that for $29.99 and still come out $5 ahead.
Roku Streambar – Price: $89.99 (save $40.00)
If you're looking for a streaming media player and better sound for a secondary TV, the Roku Streambar fills both needs at a bargain price.
Chromecast with Google TV – Price: $39.99 (save $10.00)
I've been using Chromecast with Google TV for months and find it to be the simplest to use of the streaming media players on the market. Catch it while it's on sale.
Smartphones and tablets
Amazon Fire Max 11 Productivity Bundle with Keyboard and Stylus – Price: $264.99 (save $104.98)
With 4GB RAM and an octa-core processor (MTK8188J - 2x Arm Cortex-A78 up to 2.2Ghz and 6xArm Cortex A55 up to 2Ghz), this 11-inch tablet can handle any day-to-day task you can throw at it. And it comes bundled with a stylus and keyboard folio case to turn it into a secondary work machine.
Amazon Fire HD 8 Kids Pro (2022 release, current model) – Price: $74.99 (save $75.00)
This 8-inch tablet is designed for kids ages 6-12 with a faster processor than the regular Kids model and comes with a choice of three colorful covers, a 2-year protection against drops/breakage, and a year subscription to Amazon Kids+. The Fire HD 8 Kids for younger kids is on sale for the same price, protection plan, and subscription to Kids+, and comes with a more protective case in four colors.
Google Pixel 7 Pro (128GB) – Price: $649.00 (save $250)
The current flagship model for Google, the Pixel 7 Pro is touted as one of the best phones you can buy by reviewers. It has an excellent camera and solid performance – it's a bargain for the price.
TCL 40XL (256GB, 6GB RAM) – Price: $125.99 (save $74)
TCL is known for its high-quality budget-friendly TVs, and it shows in the quality of the 6.75-inch on this entry-level Android phone. It has an impressive 50MP camera, runs Android 13, and has plenty of power for everyday tasks. The tradeoffs are no 5G, no water resistance, no wireless charging, and no NFC (so no tap to pay). But for the price, it's a great deal.
Samsung Galaxy S23 (128 GB) – Price: $599.99 (save $200.00)
This year, Samsung gives you two good reasons to upgrade it its Galaxy S23 line of phones; a much more powerful Qualcomm Snapdragon 8 Gen 2 processor and significantly improved cameras.
Samsung Galaxy Z Fold 4 (256 GB) – Price: $1,099.99 (save $700)
The Galaxy Z Fold 4 gets rave reviews for its bright, large display, great cameras, and rugged build quality. If you're in the market for a foldable phone, be sure to check it out. It's rare that you'll find a foldable phone on sale for around $1,000, and it's the lowest price ever on Amazon.
Samsung Galaxy Tab S8 11" 128GB Android Tablet – Price: $499.99 (save $20.00)
This large 11-inch Android tablet is powerful enough to serve as a secondary computer when paired with the Book Cover Keyboard Slim ($72.99, save $67). And it's perfect for note-taking with the included S Pen.
Wearables
Pebblebee Card and Pebblebee Clip – Price: each $20.99 (save $9.00)
Pebblebee's Card for wallets and the Pebblebee Clip for keychains leverage the massive Apple Find My network, making them just as useful as an Apple AirTag ($28.50). Plus, they're rechargeable, so you don't have to swap out batteries when the battery dies. In my testing, I found the Pebblebee trackers are just as easy to set up as an AirTag, and they work well, with a clearly audible alert when you ping your item.
Apple Watch Series 8 – Price: starting at $279, save $120 on all models
You rarely see Apple Watch at this big a discount. Price: 41mm GPS $279 (save $120), 41mm GPS + Cellular $379 (save $120), 45mm GPS $309 (save $120), 45mm GPS + Cellular $409 (save $120)
Apple Watch SE (2nd Gen) – Price: 40mm GPS $199.99 (save $49.01), 44mm GPS $229.99 (save $49.01)
If you're an iPhone owner on a budget, the Watch SE at this price is a bargain. And, you can pick up AppleCare+ for your watch for just $34 (save $15), which I recommend if you tend to scratch your watches as I do. The 40mm GPS + Cellular model costs $249.99 (save $49.01), and the 44mm GPS + Cellular model costs $279.99 (save $49.01)
Fitbit Charge 5 – Price: $99.99 (save $50.00)
Widely reviewed as a top fitness tracker, the Fitbit Charge 5 monitors a multitude of metrics, including blood oxygenation, heart rate, and sleep. You can receive high and low heart rate alerts, and you can even take an ECG. This is the lowest price since Black Friday last year.
Samsung Galaxy Watch5 – Price: starting at $159.99 (save $120.00)
If you have a Samsung phone, the smartwatch to buy is the Galaxy Watch5 because of the tight integration between the devices. It has everything you need to track fitness and features advanced health tracking, including taking blood pressure and an ECG. And if you get the LTE version, you don't need your phone for calls, texts, and data. Professional reviewers love it, too. If you don't have a Samsung phone, know that some features, like the blood pressure readings and ECG, won't work.
Withings ScanWatch – Price: $239.95 (save $60.00)
If you like the look of an analog watch but want a smartwatch, this is the smartwatch for you. It can take an ECG and tracks sleep, heart rate, blood oxygen levels, and much more.
Headphones
Bose QuietComfort II Earbuds – Price: $236.55 (save $62.45)
The QC II earbuds are my go-to buds anytime I walk out the door. They have the best noise-canceling listening experience in a true-wireless earbud, earning our Editor's Choice award. Plus, the sound is immersive, detailed, and backed by solid bass.
Sony WH-1000XM4 – Price: $248.00 (save ($101.99)
While these over-ear headphones have been on the market for a few years, they are still one of the best over-ear noise-canceling headphones on the market.
Apple AirPods Pro (Gen 2) – Price: $199.00 (save $50)
Apple periodically put their AirPods Pro on sale for $199. So if you've been waiting for a price drop, this is the time to snag a pair.
Anker Soundcore Space Q45 Noise Canceling Headphones – Price: $99.99 (save $50.00)
These comfortable over-ear headphones are excellent commuter headphones with adaptive noise canceling that adjust to the sound level of your environment.
Beats Studio Buds – Price: $89.95 (save $60.04)
The Studio Buds receive glowing reviews for sound quality and comfort. Plus, they're at an all-time low price.
Nuheara IQbuds 2 MAX Hearing Amplifier and Bluetooth Streaming Headphones– Price: $249.99 (save $249.01)
The IQbuds 2 Max also are among the best music-listening Bluetooth buds and include excellent active noise canceling. Plus, they check all the function, feature, and performance checkboxes of self-fitting over-the-counter OTC hearing aids, earning them an Editor's Choice in our guide to the best OTC hearing aids to match your hearing needs and lifestyle.
Smart home and networking
Amazon Echo Dot (5th Gen) – Price: $22.99 (save $27.00)
If you want to add an Alexa device to another room in your home, you can't beat this deal. Plus, you get a Bluetooth-controlled smart Sengled lightbulb. Get the Kids version, Echo Dot Kids, which comes with a year of Amazon Kids+ for $27.99 (save $32.00).
Amazon Echo Show 5 (3rd Gen) – Price: $44.99 (save $40.00)
The ultimate Alexa-based smart alarm clock is on sale for a deep discount.
Amazon Echo Show 10 (3rd Gen) – Price: $162.99 (save $87.00)
Amazon's Echo Show 10 makes video chat hands-free, from answering calls to keeping you in focus. I bought one at the end of last year and have been using it to visit my mom virtually in her skilled nursing facility. She doesn't have to do a thing. The camera swivels on the base to keep her in the frame and the display in view. It's been a gift for both of us.
Anker 622 Magnetic Battery – Price: $39.99 (save $30.00)
If you have an iPhone 12 or newer, you'll love this 5,000mAh battery with a built-in kickstand that can attach magnetically to your phone. It's not particularly speedy, charging wirelessly at 7.5 watts or wired at 12 watts, but it is convenient.
Anker Nano II 65-watt charger – Price: $33.99 (save $16.00)
I use this tiny 65-watt charger in place of the huge power brick that came with my laptop. It not only saves space, but it's also lighter in my bag.
Anker Power Strip with USB C, PowerExtend USB-C 3 Cube – Price: $21.99 (save $8.00)
If you're looking for a power strip for a dorm room or travel, the Anker 524 makes an excellent choice. It offers a small and cleverly designed form factor, a pretty full feature set (including 30W USB-C charging).
Arlo Essential Spotlight Camera – Price: $69.99 (save $60.00)
This tiny security camera can be mounted indoors or outdoors and wired or wire-free, providing all the flexibility you need for mounting. It has a loud siren and bright light to scare away intruders for outdoor use. And, like most security cameras today, it has two-way audio so that you can communicate with your pets for indoor use. The security camera consistently earns high marks by professional reviewers, with the quibble that a subscription is required to record video and some other features.
Arlo Essential Wired Video Doorbell – Price: $49.99 (save $100.99)
This video doorbell earns praise for its crisp video and ability to work easily with many other smart home devices, including Alexa and Google Home. The downside is that it requires a subscription for smart notifications and video recording storage. The wire-free version is also on sale: Price: $69.99 (save $130.00).
Ring Video Doorbell Pro 2 – Price: $149.99 (save $100)
While the Video Doorbell Pro 2 has been on the market for a few years, it's still one of the best options on the market. In our testing, we found that it had few false alerts, thanks to radar collecting accurate motion information and the ability to see a head-to-toe picture of visitors at the front door. It also maps where visitors go within your yard.
eero Pro 6E tri-band mesh WiFi – Price: $399.99 for a 3-pack (save $150.00)
I like the eero products because they are incredibly simple to set up and use. While on the expensive side, the WiFi 6E standard will future-proof your WiFi for years to come, with high speeds and a 6Ghz channel (in addition to 5Ghz and 2.4Ghz).
eero 6+ dual-band mesh Wi-Fi 6 system – Price: $194 (save $105.00)
For a more affordable alternative, you can go with a WiFi 6 system (no 6Ghz channel), which still provides 1 Gigabit speeds.
Kasa Smart Plug Ultra Mini – Price: $11.89 for 2 (save $8.10)
I love these tiny WiFi smart wall outlets. They only take up one outlet, and they work with Alex or Google Home; no hub is required. Now is the time to stock up.
Ecovacs Deebot X1 Omni – Price: $899.99 (save $650.00)
This robotic floor cleaner will mop your floors and vacuum your carpets for up to two months with minimal maintenance on your part. That's because it empties its dustbin and washes and dries its mop head between uses. The mop head has two spinning pads for the best mopping of any robotic mopvac, and it has 5000Pa of suction, one of the highest in a robotic floor cleaner.
iRobot Roomba Combo j7+ – Price: $799.00 (save $300.99)
We gave the Roomba Combo j7+ an Editor's Choice award after reviewing it. It has plenty of suction, navigates well, and takes care of dry debris for weeks at a time. Plus, it has a mop head that fully lifts up and away, so you can vacuum and mop all of your floors in one pass without the potential worry of soiling your carpet with a dirty mop head.
Bissell Crosswave Pet Pro – Price: $209.00 (save $129.59)
If you have a pet that sheds as much as mine does, you'll appreciate this two-in-one corded vacuum and mop. You can vacuum copious amounts of fur and mop in a single pass. After, cleanup is easy, thanks to the strainer that separates solids from liquids in the waste container. And the PET multi-surface formula, which comes in the box, does a great job on pet messes and the associated odors.
Samsung Bespoke Cube Air Purifier – Price: $349.00 (save $350)
Samsung Bespoke Cube air purifier usually sits squarely in the designer camp and at a designer price. But at 50 percent off, it's now affordable and attractive. The Bespoke Cube measures just 14.4"D x 15"W x 17.2"H and has a CADR rating of between 224-226 for smoke, dust, and pollen, making it suitable for spaces up to 350 square feet.
[Image credit: Techlicious/Smartmockups]
For the past 20+ years, Techlicious founder Suzanne Kantra has been exploring and writing about the world's most exciting and important science and technology issues. Prior to Techlicious, Suzanne was the Technology Editor for Martha Stewart Living Omnimedia and the Senior Technology Editor for Popular Science. Suzanne has been featured on CNN, CBS, and NBC.