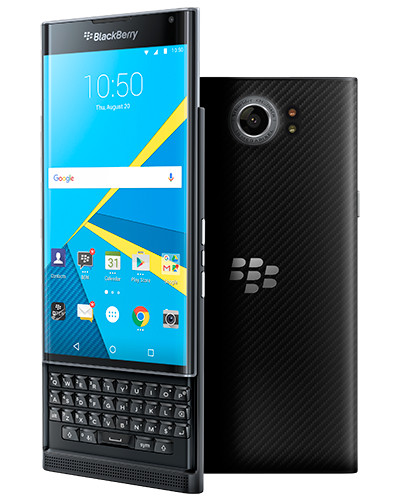 Have you made up your mind whether to buy an iPhone or an Android smartphone for the holidays? You might want to add a third option, now that BlackBerry has revealed its first-ever Android-powered flagship smartphone, the BlackBerry Priv.
The Blackberry Priv inherits some typical BlackBerry smartphone features such as a physical QWERTY keyboard and built-in security apps. This BlackBerry goes further, with premium specs that aim to steal some of the limelight from high-end Android smartphones such as the Samsung Galaxy S6.
The Priv is a slider phone that looks like a flat slab when it's closed; its physical keyboard is hidden until you slide the screen up. The keyboard doubles as a trackpad for scrolling while you're browsing the Web or looking at photos inside the Gallery app. Assign shortcuts to keys to quickly launch apps or perform an action with a long-press. And if you don't want to use the physical keyboard, the Priv also provides an onscreen virtual keyboard like the one on the BlackBerry 10.
The BlackBerry Priv offers stunning specs, including a curved 5.4-inch (2560 x 1440 resolution) display similar to the one on the Galaxy S6 Edge. The Priv owes its processing muscle to a Snapdragon 808 hexa-core processor, and its imaging magic relies on a dual-flash, 18-megapixel back camera by Schneider-Kreuznach. A built-in 3,410-mAh battery powers the device for about 22.5 hours of mixed usage.
Android 5.1.1 Lollipop runs the software show underneath, with several features from the BlackBerry 10 such as the BlackBerry Hub for storing all your emails, Twitter direct messages and interactions. An Inbox-like snooze feature sends messages to the top of your inbox at a later time or when you reach a certain location. Swiping down on the message list shows your next four appointments or events, allowing you to keep productivity in focus. More productivity comes in the form of an onscreen tab at the edge of the screen that gives you quick views of important items in your BlackBerry Hub, Calendar, Task and Contacts.
Known for creating secure devices, BlackBerry has also thrown in security features such as a picture-based passcodes, encryption switched on by default and a security app DTEK that monitors the phone for security threats and gives security ratings.
For more about this new Android phone, see the BlackBerry Priv home page, or preorder your Priv direct from BlackBerry's online shop for $699. You can also pre-order the Priv for $24.67 monthly (or $249.99 with a two-year lock-in) from AT&T and Verizon has announced it will carry the Priv.
If you're looking for a pure Google Android phone, see our story on the new Nexus 5X and Nexus 6P, or go a different direction entirely with the Apple iPhone 6.
[Image credit: BlackBerry]