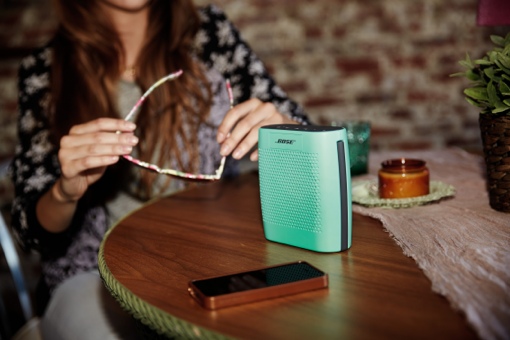 Premium speaker company Bose today announced the launch of two new items in its SoundLink line of mobile products. The first, the SoundLink Color Bluetooth Speaker, promises to be a small-yet-powerful portable sound solution. The second item, the Soundlink On-Ear Bluetooth Headphones, aims to give a premium mobile sound experience without the clutter of wires.
The Bose SoundLink Color speaker ($129.95) is clearly meant to compete against similar Bluetooth speaker offerings like the Jawbone Jambox (my personal favorite, now under $100). Like the competition, the Bose SoundLink Color comes in a number of designer colors such as mint (shown). At 1.25 pounds and a 5" x 2.1" x 5.3" rectangular form factor, it'll easily fit inside luggage and handbag alike, allowing you to take the party with you wherever you go. Battery life, meanwhile, is competitive – the SoundLink Color goes 8 hours on a single 3-hour-long charge as compared to the Pill's 7 hours and the Jambox's 10 hours of music.
The Bose On-Ear Bluetooth Headphones ($249.95), meanwhile, are stylish without being ostentatious in the way Beats by Dre fashion models can be. It's "precision engineered" with impact-resistant materials, stainless steel construction, and high-end cushioning and fabric. Like other Bluetooth headphones, you can control music and volume directly from the headset and take incoming phone calls using the built-in mic. A second mic, meanwhile, helps cancel sound and dynamically adjust your volume based on ambient sounds. Another nice feature: These 5.5-ounce Bose headphones can connect to two different Bluetooth sources, allowing you to switch back and forth between your smartphone and your computer without fumbling around with pairing and settings all the time. Battery life comes in at a solid 15 hours, besting much of the Bluetooth headphone competition.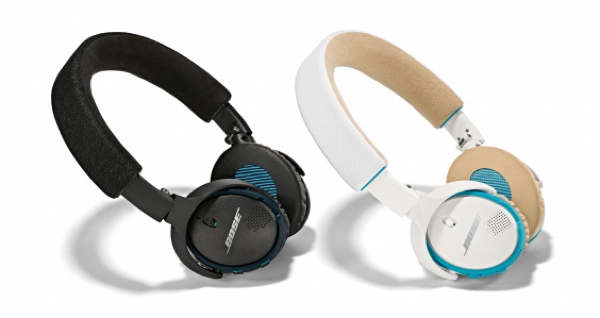 The Bose SoundLink On-Ear Bluetooth Headphones are available starting today in both black and white colors at Bose.com, in Bose retail stores and wherever high-end audio accessories are sold. Pre-orders for the Bose SoundLink Color Bluetooth speaker begin today; the device will launch on September 25.