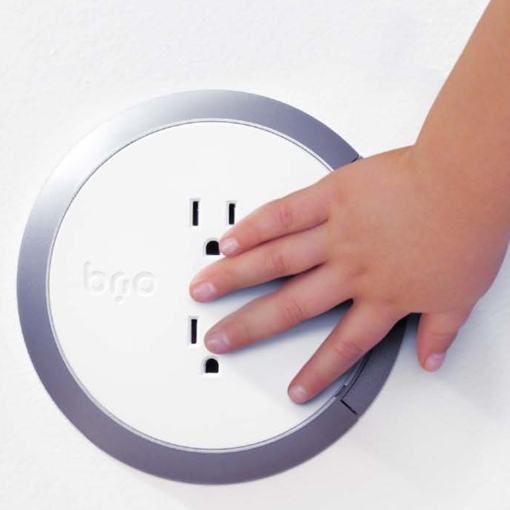 Here's a problem all new parents face: How do you protect your curious baby or toddler from sticking those little fingers (or a fork) into the electric outlets around your home? Those little plastic covers work, sure, but they're not especially convenient for use on an frequently-accessed outlet. That's why I like the new Brio Safe Outlet – it's a new smart electrical outlet that activates only when it detects a plug.
On demo here at CES 2015 in Las Vegas, the UL certified Brio outlet spends most of its time in a dormant state. When a foreign object is inserted into the Brio, nothing happens – there's no shock, and no risk of serious injury. When a standard plug is inserted, however, the Brio's IR sensors detect the connection and the device confirms the validity of the load. Only then does Brio operate as a 120-volt electrical outlet.
The brave folks manning the Brio booth were more than happy to show off how the device works, sticking a stripped wire into the outlet with bare hands to prove it wouldn't cause a shock. Moments later, they plugged in a small lightbulb device. It instantly turned on, just as it would have if plugged into a standard wall outlet.
If you want to protect your home itself, as well, check out the WiFi- and Zigbee-enabled Brio Smart Outlet instead. The base outlet offers the same kind of shock protection as the Brio Safe Outlet. But it also interfaces with a network of wireless sensors you can place around the home to detect carbon monoxide, smoke, fire and water. If any of the sensors detect danger, an alert is instantly sent to your phone.
The Brio Safe Outlet can be pre-ordered for $49.00 at the Brio website, not counting any expense you may incur getting it installed by an electrical professional. The Brio Smart Outlet is $99.00, with the Brio Water Sensor, Brio Smoke Sensor and Brio Carbon Monoxide Sensor priced at $19.00, $29.00 and $39.00 respectively. The devices are expected to ship in summer 2015.
[Image credit: Brio]