For math mavens around the world, it's time to celebrate the next major holiday – Pi Day. The first Pi Day was celebrated in 1988 at the San Francisco Exploratorium, and takes place every year on March 14th (3.14, get it?) and has come to honor all things math, as it coincides with Albert Einstein's birthday. One of the largest celebrations of Pi kicks off March 8th at Einstein's former stomping grounds, Princeton, and focuses on the more fun aspects of all things Pi in the world around us.
We've pulled together resources to help you celebrate Pi Day with your family (Although you should also feel free to celebrate it by calculating the area of your favorite pie, using pi, before slicing it up to share with your loved ones. Mmm. Pie.).
Pi Day Apps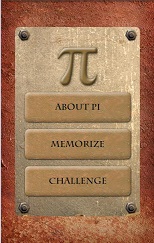 What would Pi Day be without an app or two to test your knowledge of the infinitely long number? There's several free and recent apps available for iOS and Android phones, here's just a few.
iOS App: Learn Pi Free
As the name implies, this is a free app for the iOS that just launched this week that tests your knowledge of the number, and includes a practice mode. Hold a contest in your family to see who can memorize the most numbers.
Price: Free for iOS
Android Apps: Pi Trainer, Pi (3.14159…)
Both released in September of last year, these apps challenge you to see how many digits of pi that you can memorize and Pi (3.14159) has a nice interface that also gives you an overview Pi's origins.
Price: Free for Android for both Pi Trainer and Pi (3.14159...)
Reading About Pi
Sir Cumference and the Dragon of Pi is one of a series of books about a knight called Sir Cumference, his wife Lady Di of Ameter and their son Radius. In this tale, a potion has transformed Sir Cumference in a fire-breathing dragon and his son is off on a quest to solve a riddle and change him back. This series is geared toward kids ages 7+.
Price: $7.15 on Amazon
Watching Pi
What's a better way to spend the day than at the theater watching Oscar winning film Life with Pi? The story is actually about a boy named Pi who finds himself stranded on a lifeboat with a ferocious Bengal tiger, not about the number, but it is a fantastic film worth seeing.
Price: $14.99 to stream on Amazon
or check your local theater listings
Cooking Up Pi
While not a techie gadget, it certainly qualifies as geeky. You can get your very own Pi Symbol Ice Cube Tray to impress your friends. According to the description, it evidently is also good for "casting other materials, such as meatloaf"
Price: $9.36 on Amazon