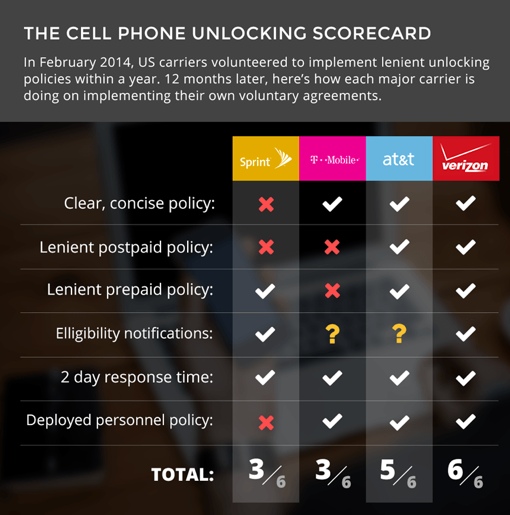 When it comes to unlocking your cellphone, not all carriers are created equal. According to a new analysis by telecommunication consumer choice activist Sina Khanifar, some U.S. wireless carriers continue to make things difficult for customers who want to take their existing phones to other carriers despite effort from the federal government to standardize the procedure.
In December 2013, all four major cell carriers (Verizon, AT&T, T-Mobile and Sprint) entered into a voluntary agreement with the FCC on phone unlocking. It calls for each carrier to have clear, concise and accessible unlocking policies that apply to both prepaid and postpaid customers, to notify you when your device is eligible for unlocking, to perform an unlock within 2 days of your request, and to unlock for military personnel undergoing deployment. Then, in August of 2014, President Barack Obama signed the Unlocking Consumer Choice and Wireless Competition Act, which officially repealed an earlier ruling that made unlocking your cell phone an illegal practice. So, with all these agreements and laws, everything is simple and easy, right?
Not so fast – when it comes to the wireless industry, nothing is simple and easy. While both AT&T and Verizon have, for the most part, lived up to their part of the bargain, competitors T-Mobile and Sprint have not. Specifically, Khanifar's analysis shows that Sprint lacks a clear, concise unlocking policy, a lenient postpaid policy and is failing to meet its promise to help those in the U.S. military. T-Mobile, meanwhile, is criticized for lacking a lenient postpaid and prepaid policy and for failing to indicate whether it will notify you of your unlock eligibility. (T-Mobile has responded to Khanifar's analysis, stating that it does comply with all its obligations despite restricting unlocks to 2 devices per line per 12 month period.)
Verizon received high marks in the analysis, being the only company to achieve a perfect 6-out-of-6 score when it comes to meeting its obligation. In fact, the carrier no longer locks the vast majority of devices it sells to its network.
Khanifar notes that there's a major aspect missing from the carriers' policies – interoperability. While carriers are required to unlock your device, they're not required to allow you to bring your own unlocked phone to their network. Sprint, for example, refuses to allow its customers to activate phones sold by other carriers, despite it being technologically possible to do so. Verizon, too, restricts activations to its own phones.
[Cell phone unlocking scorecard via Repeaterstore.com; Smartphone and money via Shutterstock]