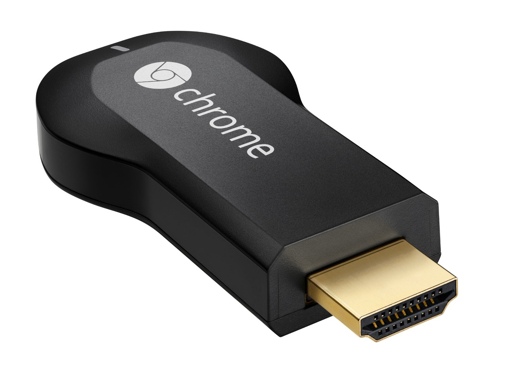 Google's Chromecast streaming media stick made pretty big waves when it was launched in July of last year. The simple device lets you stream Netflix and Hulu and mirror your phone's screen on any TV with an HDMI input. Now, just in time for the holidays, Chromecast is getting some great new features, including a new slate of family games that anyone with a smartphone or tablet can play.
Chromecast's new family games are all modern takes on some classics: Hasbro's Monopoly Dash, Scrabble Blitz, Connect Four Quads, Simon Swipe and Wheel of Fortune are all there. You can join in on the games with any Android or iOS smartphone, using your TV as the scoreboard. These games could be a lot of fun at a holiday family gathering, provided everyone who wants to play shows up with their own mobile device.
If you want to get the kids moving on a cold winter snow day at home, give Just Dance Now a try – it uses your phone to detect your physical movement. For a more mental challenge, the Big Web Quiz is a fun trivia game. Emoji Party, meanwhile, challenges you to guess movie titles using only characters from the picture-based font.
If movies are more your thing, Chromecast just added support for both Showtime Anytime and Starz Play. If you subscribe to the premium channels through your cable package – or if you're lucky enough to someday unbundle – you can stream a selection of movies and original series like Homeland directly to your TV without a cable box. (HBO GO has been available on Chromecast for some time.)
You can browse the full slate of apps available for the Google Chromecast by visiting chromecast.com/apps. To learn more about the device, check out our Google Chromecast review. You can buy the Google Chromecast at Amazon.com for $32.49.