We may earn commissions when you buy from links on our site. Why you can trust us.

Review of Google Chromecast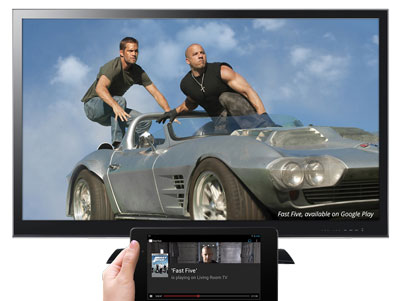 There are plenty of ways to get streaming video to your TV—apps for your TV, apps for your Blu-ray player, apps for your gaming console, apps for your smartphone and set-top boxes from Roku and Apple. So when Google announced its $35 video streaming product, Chromecast, I was a little skeptical about whether it could compete with the wide range of existing devices—even at such a low price. I gave it an in-depth review it to find out.
Chromecast is a stick that plugs into your TV's HDMI port and uses your home's WiFi network to stream video from the Internet. The controller is your laptop computer, Android device or iOS device. Each of the supported streaming services (e.g., Netflix) has a button to send the stream to Chromecast—just press the Chromecast button and it starts playing on your TV.
Set-up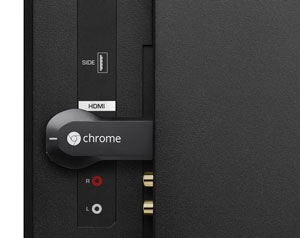 For a device that at its core is about simplicity, Chromecast had to be simple to set up and it was. I plugged the Chromecast into the HDMI port, plugged it into an electrical outlet (you can also plug it into a powered USB port if your TV has one) and turned on the TV. I have a newer model TV, so the Chromecast was able to automatically change my TV to the correct input. Otherwise you'd have to do this manually.
Next you need to connect the Chromecast to your home network by browsing to google.com/chromecast/setup on your Mac or PC.
My MacBook Air didn't have Chrome loaded, so it prompted me to install it and then install the Chromecast plugin. Once both were loaded, I could see my Chromecast and it displayed an authorization code in the browser. On the TV, I could see the same authorization code. Once you confirm the codes match, your Chromecast is ready to go.
Interface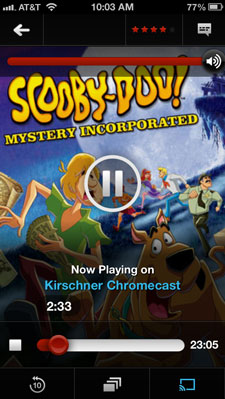 There is no dedicated app to control Chromecast, just a button within the app of the service you want to watch on your TV. Right now Chromecast works directly with Netflix, YouTube and Google Play; other services are in the works. Plus, you can load up any video streaming service or photo sharing service through your Chrome browser for big screen viewing.
When you want to watch video on your TV, you start playing it on your mobile device or computer and then hit the Chromecast button. The video will stop playing on your mobile device or computer and start playing on your TV. You still control playback, fast forward, pause etc. from your device.
On my recent-model Sony HX850 TV, pressing Chromecast would turn on the TV if it was off and automatically change to the correct input. For an older set, I had to power the TV on and change the input manually. Even then, the process took a lot less time than booting up my game console or Blu-ray player and wading through menus. The only thing that compared to Chromecast in terms of speed and ease of use was pressing the dedicated Netflix button on my TV's remote.
Once video is playing, you can use your device for other activities or browse for your next video. WIth the YouTube app, you can also add videos to a play list.
If you start playing a video and need to leave the house while someone is still watching, you can transfer control of the Chromecast to another device on your home network. In fact, it's not really transferring—any device on your network running the app can take control at any time.
Pricing and availability
Pre-order for $35 on Google Play and Amazon.
Should you get it
At $35, Chromecast is a bargain for anyone looking to add streaming to a TV with an HDMI port and who doesn't want an extra box sitting next to the TV. The HDMI-stick design means no box to add clutter and the simple interface can't be beat for supported apps. It's a great solution for those looking to watch Netflix and YouTube and rent movies.
If you have a TV without an HDMI port, or want to get a broader selection of services than it currently available, consider the Chromecast's closest competitor, the Roku LT ($49.99 on roku.com, $40 on Amazon). The 4" x 4" box provides access to hundreds of streaming services and a remote control, in addition to an app you can use to control the device. The Roku LT also has both HDMI and composite out for older TVs.
---
Discussion