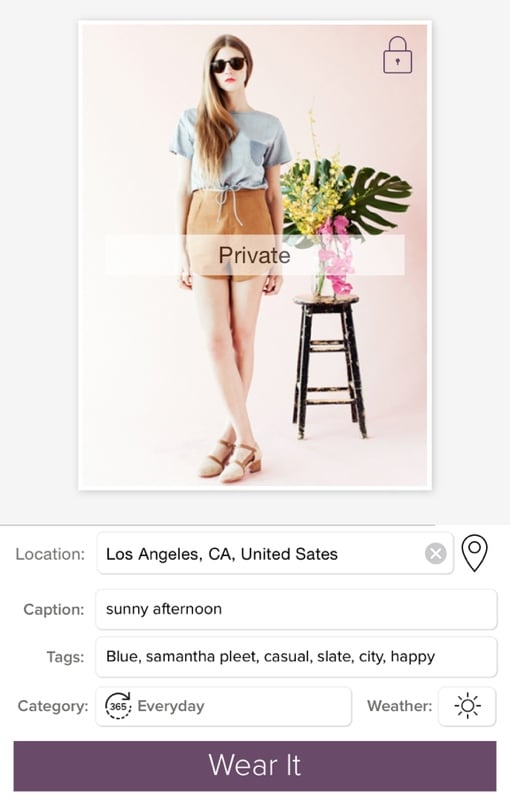 Wouldn't getting dressed in the morning be easier and quicker if you had a fully searchable catalog with all your outfits in it? That's the concept behind Cloth, a newly relaunched (and now free!) closet organization app for iPhone, iPad and iPod touch that lets you "browse real-time street style, save and organize your favorite outfits, and ask your friends for fashion advice."
The Cloth app, designed by former Maxim senior editor Seth Porges and fashion designer Wray Serna, gives you the option to add tags and categories and weather preferences to photographs of all your different looks. You might tag your new winter coat by designer, color and other searchable adjectives such as "full length." Then, you'd select a category that best describes when the look would be appropriate: everyday, work, evening, event and active, among other options. You can also toggle whether the outfit is a personal favorite, keeping your best looks close at hand.
Each outfit lets you set a weather option that describes when it's appropriate to wear it – that same winter coat might get set as "freezing" or "snow." The Cloth app then pulls real-time weather info from Weather Underground, helping you to put together looks that are compatible with current conditions. You don't even need to open the app to enjoy the feature, as these looks will appear right on iOS's Today screen for you to browse daily.
If you'd like to share your outfits with the world, you can – there are plenty of options to share on Facebook, Twitter and other social networks. If you want a more limited audience, you can share your look with other users of the app and visitors to the Cloth website. Or you can keep all your pictures private and simply use them to keep your closet organized and cataloged. It's up to you.
The new-and-improved Cloth app officially relaunches in the Apple App Store as a free download today, October 29. You can learn more by visiting the Cloth website at clothapp.com or by visiting the app's page on the Apple App Store.