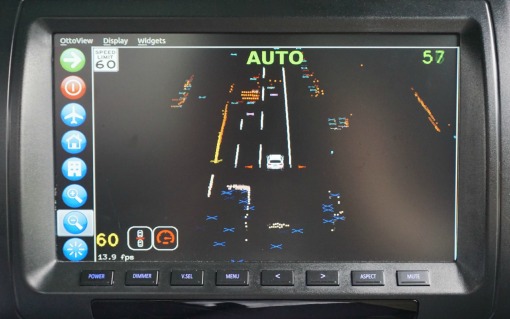 Driverless cars are closer to reality than you think: in fact, you may have driven past one on the roads recently. Delphi has just wrapped up a record setting 9-day, 3,400-mile, cross-country road trip — traveling through 15 states on its way from San Francisco to New York City — in which the car did most of the driving itself. Though you've probably heard of Google and Tesla's self-driving cars, you may be less familiar with Delphi. The company may not be a big consumer name in cars, but Delphi builds a lot of the technology inside the cars we drive — and with the success of this road test, we may be seeing Delphi's self-driving technology in consumer vehicles soon.
Delphi's automated vehicle, dubbed "Roadrunner," is a customized Audi SQ5, fitted with cameras, sensors, and sophisticated software to control the vehicle. During this test, the car navigated through plenty of real-world driving challenges, from traffic circles to aggressive drivers, without any major snags. Roadrunner did 99% of the driving on its own, though the human driver did have to intervene to steer the car around a construction zone and move it into a crowded lane to give a police car stopped on the shoulder space. "The equipment was flawless," explained Delphi chief technology officer Jeff Owens.
But the successful test doesn't mean there's not room for improvement: along the way, the Delphi team collected a staggering 30 terabytes of driving data, which will be used to improve future versions. One snag the team ran into was road markings, which the vehicle uses to keep itself centered in the lane: the marks used can vary from region to region, with markings in different colors and different widths, some new and some faded. Bright sunlight and rain can also confuse the car's cameras, though car's radar systems continued to function regardless of conditions.
Though full-scale self-driving tech isn't coming to a car near you just yet, there's lots of assisted driving features you can find in cars right now, including vehicles that self-park or warn the driver of oncoming hazards. You'll also be able to see the Delphi system partially in action, with the company providing tech for assisted driving on Audi's upcoming AG model and the radar and camera system for Volvo's upcoming XC90.
[Image via Delphi]