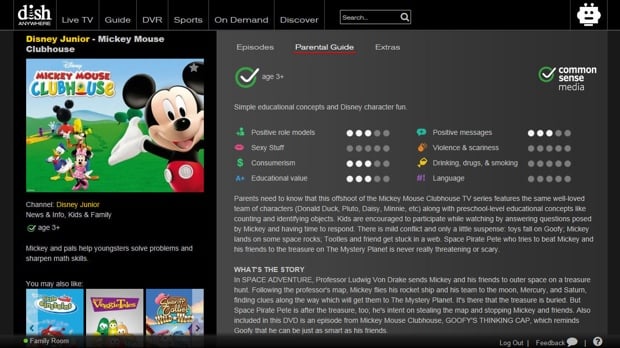 DISH Network is making it easier for parents to find age-appropriate content. This week, the company partnered with Common Sense Media to offer age-based ratings and specific content warnings (i.e., violence, sex, language, etc.) in its new Parental Guides available on DISHAnywhere.com.
In a Parental Guide entry for Disney's Mickey Mouse Clubhouse, for example, you'll learn that the program is appropriate for kids aged 3 and up. You also get 0 to 5 ratings in eight different categories: positive role models, positive messages, sexy stuff, violence/scariness, consumerism, drinking/drugs/smoking, educational value and language. The show gets a 3-point rating for positive role models, positive messages and educational value, so you know it's unlikely to offend. Mickey Mouse does get a 3-point commercialism rating, though – if you have Disney shirts, stuffed animals, dishware, toys or bed linens in your home, you know why.
Just as importantly, the Parental Guide also offers information about the show's plot and series itself. We like the "Is it any good?" section, which tells you whether the program is worth your family's time. It explains that Mickey Mouse Clubhouse "probably won't appeal to older kids, and parents may not be charmed," and that there's little sophistication and cleverness present. In other words: It's a good program for kids to watch on a tablet in a car, but if you're sitting down for a family viewing night, you should probably choose something different.
For now, the Parental Guide feature is only available via DISHAnywhere.com. In the coming months, you'll be able to access this information in the DISH Anywhere mobile app for iOS, Android and Amazon Fire tablets. For more information, visit the DISH Website. For more on how Common Sense Media determines its ratings, visit the organization's website.
[Image credit: DISH]