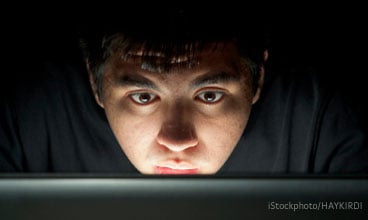 New research conducted by the Chinese Academy of Science published in the journal PLos One revealed that the brain properties of web-addicted adolescents are similar to those addicted to drugs and alcohol.
The study, which looked at 17 kids with signs of Internet Addiction Disorder (IAD) and 17 with normal web use, found one important difference: the brains of kids prone to IAD showed a disruption to connections in the nerve fibers that link areas governing emotion, decision making and self-control. Alcoholics and drug addicts display these same disconnections in brain fiber, suggesting the relationship between the two illnesses.
Internet and gaming addiction have become big issues in China, where excessive use has been linked to depression and suicide. Several cases of extreme gaming addiction have grabbed international headlines recently, like the one in which a Chinese couple who sold their kids to support their habit. However, China has also come under intense scrutiny for its Internet addiction treatment centers—so-called "boot camps," where teenagers are reportedly subject to physical abuse.
Have you seen people in your life use the internet use or video games in a way substance abuse? We'd love to hear your comments.