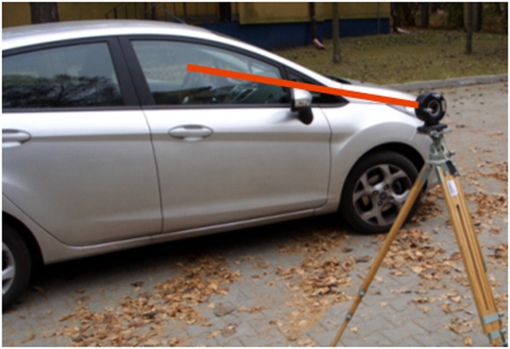 Could drunk driving checkpoints soon be replaced with a simple laser? According to a new study published in the Journal of Applied Remote Sensing, scientists are testing a roadside laser for use in enforcement that can detect small concentrations of alcohol vapor in car cabins, even in moving vehicles.
If the roadside laser detects alcohol vapor in a car corresponding to a blood alcohol concentration as low as 0.01%, a picture including the vehicle's license plate would be sent to police further down the road. The police office would then stop the car and give the driver a standard sobriety test to verify the laser's results.
"From the practical point of view, there seem to be some countermeasures, such as driving with windows open, solar screens on the side windows, etc., that can be applied by drivers to deceive the system," the study authors explain. "However, such situations are very easily detected by the system, which sends this information to the policeman indicating that the car should be checked."
You can read up more about this cool new car safety tech at Popular Science.
[Alcohol-sensing laser via Jarosław Młyńczak; Jan Kubicki and Krzysztof Kopczyński
"Stand-off detection of alcohol in car cabins", J. Appl. Remote Sens. 8(1), 083627 (May 19, 2014).]