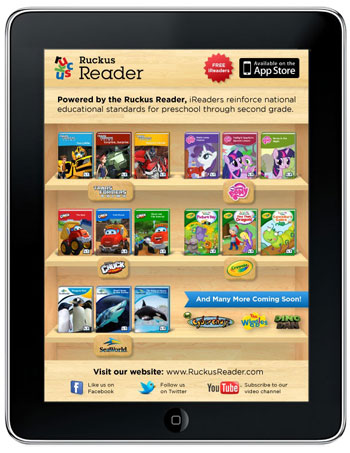 Ruckus Media Group recently launched the Ruckus Reader, an interactive children's storybook library for the iPad that provides parents with personalized reporting on their child's reading experience. Created for kids ages 3-8, the Ruckus Reader contains storybooks and activities from such adored characters as The Wiggles, Hasbro's My Little Pony, Crayola, Cyberchase, SeaWorld, The Transformers and more.
While Ruckus Reader is fun and engaging for kids, it's the latest interactive tool at parents' disposal to encourage a love of reading and help their kids learn to read. Each custom bookshelf offers the right book at the right time, as each series features three different reading levels appropriate for emerging, beginning and independent readers.
It's also the first library of mobile apps to offer iReaders (digital storybook titles), e-Readers (e-books), and vidReaders (narrated video books) and activities for kids to enjoy and explore with the Ruckus Reader. There's age-appropriate learning activities and games within the context of each story to further the plot and keep kids engaged - like word hunts and identifying items in a picture.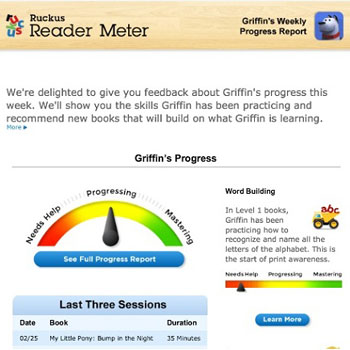 Parents are updated with their child's progress through the Reader Meter - a weekly email report analyzing the amount of time their child spent reading a book, what activities they engaged with the most, and offering feedback and tips for parents with reading recommendations. Parents can also access real-time data on their child's reading progress including alphabet mastery, word recognition, phonics, story comprehension and sequencing – in keeping with Common Core State Standards.
The Ruckus Reader launched with 20 titles, with 20 new titles to be added a month and an expected 500 titles to choose from by year end.
The bookshelf apps are available now for free in the iTunes App Store when you download a classic bookshelf, and then $3.99 per app; $5.99 per digital bookshelf; or $24.99 for a six month subscription of unlimited access. Parents can create up to four accounts with the subscription, each with their own library of books customized for each kid.