Typing on a keyboard all day can lead to repetitive stress injuries, resulting in wrist fatigue and pain. Alongside regular breaks and stretching, experts recommend using an ergonomic keyboard to correctly position your wrist and hand while typing. However, ergonomic keyboards typically aren't affordable and require a learning curve because their keys aren't set in the traditional rectangle. Logitech, the maker of some of my favorite mice and keyboards, addresses these issues with the Logitech Wave Keys, a $59 ergonomic keyboard with a compact, "wavy" design and integrated memory foam wrist rest.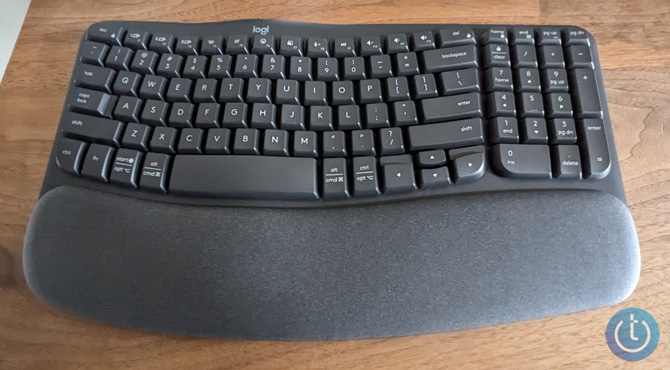 As someone who suffers from wrist pain and Carpal Tunnel Syndrome, I currently use the Logitech Ergo K860 at home. It's a full-size keyboard with a soft split-key design – the keys are more spaced out than a regular keyboard, and the middle section slopes up so that my wrists lay flat, in a neutral position. My hands are positioned so that my elbows point out to the sides when I type, putting my back and neck into a more neutral posture. But this design took some getting used to. It took a few days before I found the use of the keyboard intuitive, and the keyboard costs $119.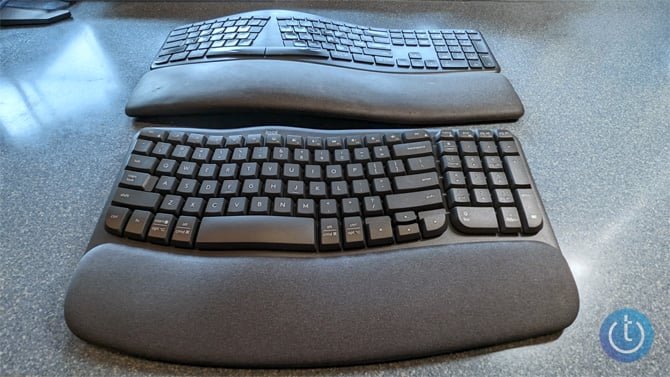 Logitech Ergo K860 shown at the top with the Keys Wave below it.
At $59, the Logitech Wave Keys keyboard is way more affordable and doesn't require as much of a learning curve. It looks like a traditional full-size keyboard, but rather than lying flat on the desk like other keyboards, it has a soft "wave" to it that positions your hands and wrists in a comfortable, natural typing position, with the integrated palm rest supporting them. It's also more compact than my Ergo K860, so it doesn't take up as much room on my desk. The Wave Keys has the same dedicated number pad as traditional keyboards, but the keys are closer together and raised a bit higher, unlike the ones on my Ergo K860. Keyboards are a very personal accessory: some people prefer Chicklet-style keys with little travel, while others appreciate the longer travel of a raised key.
If you've always wanted to try an ergonomic keyboard but were put off by the price tag and learning curve, you should give the Logitech Wave Keys a try. It works with multiple operating systems – Windows, macOS, ChromeOS, Linux, Android, and iPadOS – and connects via Bluetooth to three separate devices (laptop, smartphone, iPad, tablet) with the tap of a key. There is also an included Logi Bolt USB dongle that delivers a 2.4GHz connection for up to three devices.
The Logitech Wave Keys keyboard is available for $59 in Graphite, Off-White, and a Rose color is available for pre-order with a release date of December 31, 2023.
[Image credit: Andrea Smith/Techlicious]
Andrea Smith is an award-winning technology broadcast journalist, reporter, and producer. Andrea was the Technology Producer and an on-air Technology contributor at ABC News for over two decades before becoming the Lifestyle Channel Editor at Mashable, where she explored the ways in which real people, not just geeks, began using technology in their everyday lives.