Android 9.0 Pie has rolled out to the Pixel, Pixel XL, Pixel 2 and Pixel 2 XL, with headline features in improved battery management and smarter phone software that uses machine learning to analyze how individuals use their phones and predict preferred apps and settings at various times. Other Android phones will receive the update over the next several months.
A major enhancement is a feature Google is calling "Digital Wellbeing," which revolves around the burgeoning trend towards minimizing the distraction created by personal technology. It will offer insight into screen time spent in various apps and how many times these apps are unlocked, for example. This feature is currently in beta — Pixel users can sign up to be testers here — and will roll out in full sometime in the fall.
If you're not using a Pixel phone, fall is also the timeframe for Android Pie to roll out to Android One phones — that's non-Google phones that run the Android OS without an overlying software skin, including the HTC U11 and Moto X4 and the Nokia 6, 7 and 8 Sirocco. For now, users of other Android phones, such as the Samsung Galaxy range, will have to wait on their manufacturer or carrier to post news, while the Pixel tablet and Nexus range won't be getting the update at all.
Here's a breakdown of what version 9.0 Pie will be bringing to Android users:
Better battery life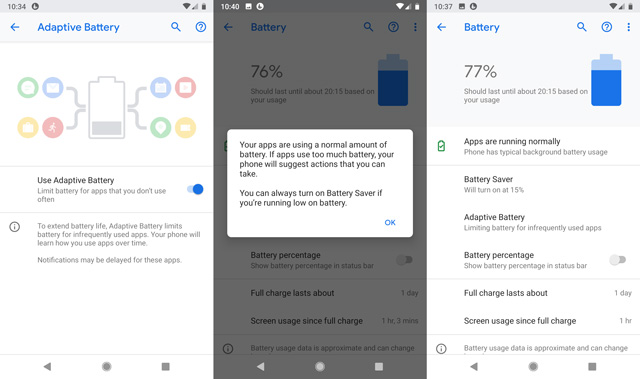 Short of a game-changing new battery technology, the only way to improve battery life in smartphones today is to improve the way the phone's OS manages that precious electrical juice — which is exactly what Android Pie does, building on the enhancements brought about by past updates with spiffy new machine learning-driven tactics.
Adaptive battery
The Adaptive Battery feature learns your smartphone usage patterns in order to keep certain apps and services in the background if they're not used often. A background restrictions feature additionally restricts apps that are using too much battery.
Extra control in battery saver mode
As in the previous version of Android, 8.0 Oreo, battery saver mode can automatically kick in when juice is running low — but Pie users will be able to finely adjust (using a slider) exactly the percentage battery they want the saver feature to kick in at, which will turn down brightness and restrict the performance of certain apps.
Adaptive brightness
In recognition of the battery-hogging nature of the smartphone screen itself, there's also an adaptive feature for brightness, where the phone will learn how bright you prefer your screen in various lighting environments and then automatically turn it up or down.
Battery life estimate
Along with finer controls over how apps can use the battery, you'll also be able to see the estimated time of day that the battery will last until, based on current usage. Helpfully, this is visible from the Settings menu, which you can access by swiping down from any screen and tapping the settings icon.
Smarter performance
Given how much most of us are on our phones every day, perhaps it isn't a surprise that Android Pie uses machine learning to glean insight into how we like to use those portable infernal devices of distraction, then improve performance by predicting how we'd like our settings and when we'd like our apps to pop up.
Notifications upgrade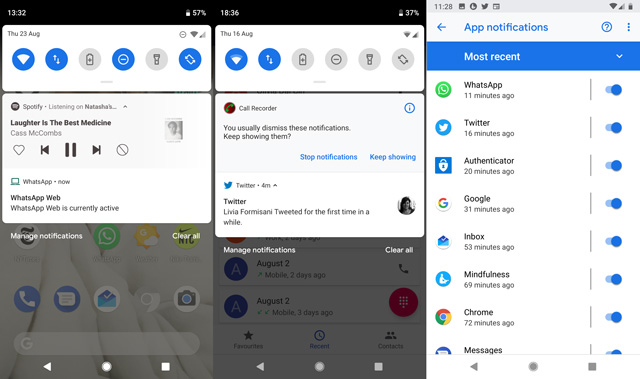 If you normally dismiss or swipe away a notification alert, you'll be asked if you want to turn off alerts from that app. Each time you get a notification you can also hit Manage notifications to instantly see the most recently used apps and toggle notifications for each app on and off.
For message notifications, smart replies (those canned responses that are algorithmically generated based on the contents of the incoming text) will now be possible within the notification itself, so you can simply tap one of three options to get those responses out of the way.
App Actions that predict your actions
A feature that Google is calling App Actions aims to bring up what you're most likely to do at the times the phone has learned you like to do it.
When you're at work — or any other GPS location you're commonly in that isn't home — the apps you normally use there will pop up in the apps menu (accessed by swiping up from the base of the screen).
Use headphones often? When you plug them in, the phone will bring up the playlist or app it thinks you want (i.e., the one you most often choose).
Finally, the phone will also try to predict what you do at certain times — for example, when you're about to head off on your morning commute, it could display a Maps navigation icon for the address you always input; at other times, it displays what you do most often, such as WhatsApp a friend or open a new browser tab.
Slices — to come
Google has also announced a feature called Slices that's intended to suggest additional actions from various apps while in other apps. For example, searching for the Lyft app in the Google Search bar could bring up additional info like how far away the nearest car is. This feature isn't available yet.
Minimizing distractions
The Digital Wellbeing menu has the potential to become one of our favorite new things about using an Android phone.
The dashboard (of your distraction)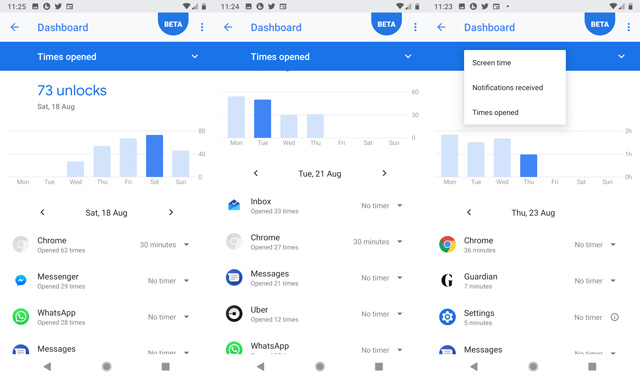 Currently, a beta app that, once downloaded, sits in the Settings menu, this multi-faceted feature includes a dashboard where you can see how many times you unlock your phone per day or week, the number of notifications you get, the amount of screen time each app gets and how many times it was opened. (Warning: This data is both insightful and slightly terrifying: it turns out I really enjoy checking my email — one of the biggest technology time sinks — and I unlock my phone about 50 times a day, probably to check WhatsApp notifications, of which I get dozens per day.)
App timers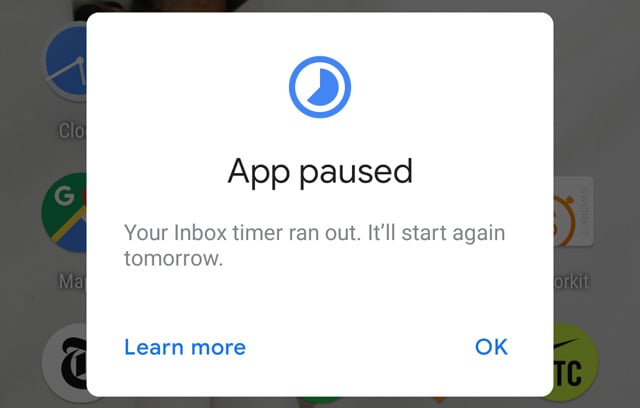 However, the data is more than just a record of how easily distracted you are: After noting which apps are snaring most of your time, you can set limits on how long each app can be used. After you pass this time limit, the app icon goes grey and is no longer accessible for the rest of the day.
A more bedtime-friendly phone
In the Digital Wellbeing menu, there's Wind Down mode, where you can set the time at which you're typically getting ready for bed. At that time, your phone will fade to gray and stay that way 'til the time you set. Do Not Disturb mode, where a customizable set of notifications are silenced, also kicks in then.
Amped up Do Not Disturb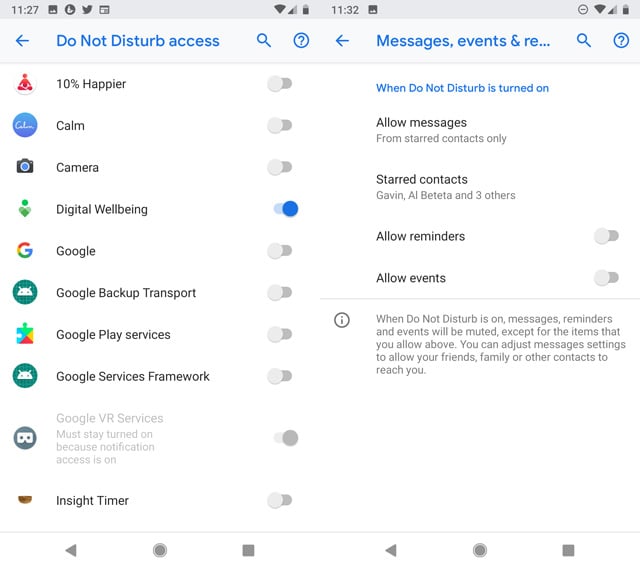 Speaking of Do Not Disturb, this feature is also enhanced, with the ability to tamp down not only sound alerts but visual notifications on the home screen. Calls from starred contacts will still come through (if you want them to) and there's also a new feature to allow messages from starred contacts to trigger sound and visual notifications.
Tougher security
While you may not necessarily notice the beefed-up security features in day-to-day usage of your Android Pie phone, there are several worth noting.
Security status displayed
In Settings > Security & location, the menu instantly displays your security status — when Play Protect last scanned your apps for malware, whether Find My Device is on (hint: if it isn't, turn it on to be able to track down a lost phone) and when a security update was last downloaded.
Lockdown to secure your phone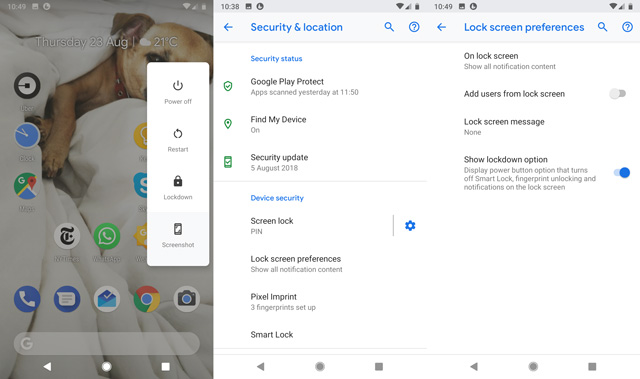 Head into Security & location and you'll also be able to turn on Lockdown, a safety feature that prevents fingerprint unlocking, turns off Smart Lock (which automatically unlocks your phone while it's in its usual "safe" location) and removes notifications from the lockscreen. According to Google, this feature is meant to prevent someone from accessing your phone while you're at home or the office, and from breaching the less-safe-than-it-seems fingerprint sensor. Once enabled, Lockdown can be turned on by holding down the power button and tapping its icon.
Behind-the-scenes protection
Other features that will discreetly protect Android Pie devices include Protected Confirmation and StrongBox, which let certain apps work with compatible hardware to save encryption keys off the phone for tougher protection (for example, two-factor authentication hardware keys).
As well, idle apps won't be able to access your phone's microphone or camera without your permission, and according to Google, there are enhanced protections for web traffic and private surfing.
More powerful, useful media features
Android 9.0 markedly improves the Bluetooth function to beef up the media chops of your smartphone or tablet.
Sound delay reporting
Perhaps the handiest feature is sound delay reporting, which works with compatible Bluetooth headsets to monitor any delay between video on your device and audio in the headphones so that both can be kept in sync
Multiple Bluetooth pairing
And if your Android device is the centerpiece of a mobile stereo system, rejoice — Android 9.0 introduces the ability to pair simultaneously with multiple Bluetooth devices, like that five-piece portable speaker set you might have.
Your Android Pie device will also be able to remember the volume you last used with any Bluetooth device, so you won't have to constantly fiddle with the volume controls when reconnecting to your car or headphones.
Overall media enhancements
Finally, enhancements to audio, video and photo tech improve performance and quality — HDR movies will look sharper and brighter, audio will be clearer and richer and improved photo compression will reduce the amount of storage needed on your device. (Of course, while all Android users have free unlimited photo storage for compressed images on Google Photos, only Pixel users get unlimited full-resolution photos.)
Best of the rest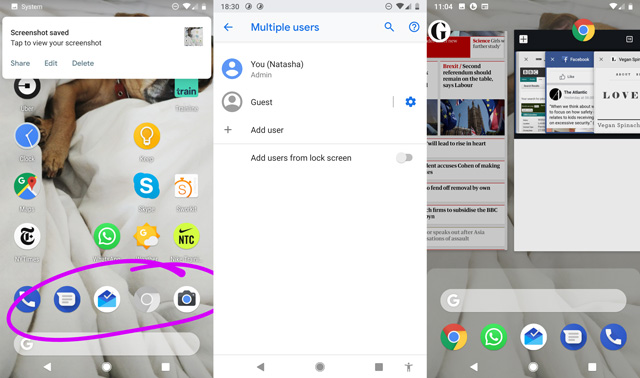 Streamlined multitasking between apps
You can tap the square at the base of the screen to view all open app windows — now headed up by their app icon — and scroll through them.
New gestures
If you're a fan of operating your Android phone via swipe gestures and button combos, Android Pie has a couple new goodies: Holding down the Power button and volume-up button is a quick and discreet way to turn off ringing (and turn on vibration) and you can also silence a ringing phone by turning it over. You may have to enable these gestures in Settings > System > Gestures.
Screenshot extras
Happen to take a lot of screenshots? After snapping the screen — either by holding down power and volume-down or holding down Power and tapping Screenshot — a popup will show the screenshot with the option to share or edit it. Edit tools include cropping, a pen and a highlighter as well undo and redo arrows — pretty handy if you want to highlight a crucial part of a conversation someone claims they never had with you (or if it happens to be your job to take screenshots of your phone).
Mobile hotspot ease of use
For those who use the mobile hotspot feature, on Android 9 it'll automatically turn itself off if no devices are connected to it. If that doesn't suit you, you can head into the Mobile hotspot menu to disable the feature.
Multiple users on one phone
You can set up additional guest accounts on your phone that strip the interface of your apps and accounts — handy for Android tablets that are used by more than one person or for work devices.
Indoor navigation
Finally, one of our favorite minor updates has to be the fact that Google Maps on Android 9.0 will soon help us navigate precisely around large indoor spaces — like malls or carparks — thanks to support for a little feature called Wi-Fi Round Trip Time, which allows the phone to position itself more specifically by using Wi-Fi points when GPS is obstructed. Bonus: The feature could also support room-by-room GPS triggers such as turning on the lights when you enter the living room.
[Image credit: Google, Techlicious]