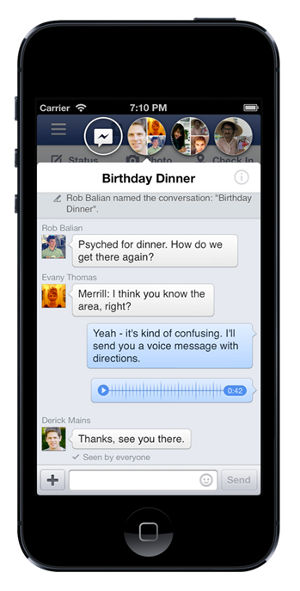 There's a lot of excitement surrounding the release of Facebook Home, the integrated social media experience for Android devices. Today, us Apple owners get a taste of the Facebook Home high life: The Facebook app for iPhone and iPad has been updated and is now available for download on the App Store.
This latest update largely centers on the new Facebook chat system and the "Chat Heads" that made waves on Android. With Chat Heads, new Facebook messages will pop up on your iPhone or iPad screen as small circles filled with a picture of the person you are talking to. When you touch the circle, a chat window opens up. You can touch the circle again to minimize the chat or drag it around your screen to a more convenient location. When you're done talking, you can just drag the circle off the bottom of the screen to close it.
Unlike the Android version of Facebook, Chat Heads only works within the Facebook app itself, so its usefulness is limited. On the iPhone, Chat Heads feels slightly cramped; the feature works much better on the iPad's larger screen. The iPad version of Facebook also boasts a new, improved news feed with a cleaner layout and easier to read text. You'll also be able to download and use stickers on your mobile device – essentially, beefed up emoticons. Stickers are incredibly popular in Asia, and are growing in popularity here in the United States thanks to the iPhone's emoji keyboard.
To update to the new Facebook 6.0, tap on the App Store icon on your iPhone or iPad and then touch the "Updates" button at the bottom of your screen. On the Updates screen, find the Facebook icon and touch the update button at the far right. Be careful updating apps while on the go – downloading programs can use up a chunk of your monthly data allowance. Your best bet is to do this while your mobile device has access to wifi.