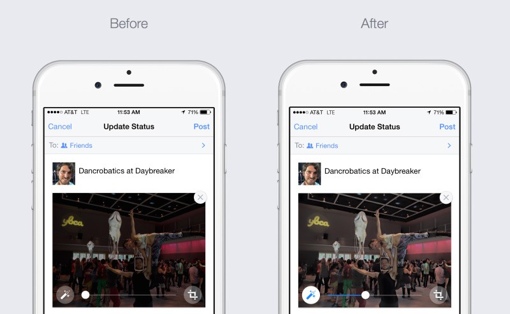 Your uploaded Facebook photos – and those of your friends – are about to look a whole lot better. Rolling out today for Apple iOS users, the Facebook mobile app will now automatically enhance your picture by adjusting its brightness and clarity, with no tapping of the magic wand required. The feature in not yet available on the Android app or desktop, but will be arriving shortly.
The idea is that the algorithms on Facebook are getting so smart, they're better able to edit photos than we, the photo takers, are. Previously, you had to settle for a custom Instagram-esque filter and the one-touch magic wand button. The old magic wand was a bit hit-or-miss. The newer version is definitely better.
Perhaps the best part about auto-enhance is that it also gives you more power to fine tune the lighting, brightness and color of your photos manually. You can easily adjust Facebook's automatic fix by fiddling with the provided slider and custom filters are still available. If you'd prefer Facebook leave your uploaded photos alone, you can also disable the new "enhance automatically" feature by entering the app's Settings under Video and Photos.
Photography hobbyists may still find Facebook's adjustments lacking, but thankfully, there are plenty of other options available for sharing and editing your mobile photos. Be sure to check out Techlicious's guide to the best photo sharing sites, many of which offer even better editing tools than Facebook. For the best looking pictures, you'll likely want to consider a powerful desktop photo-editing app like the new Adobe Photoshop Elements 13. The software is currently available on Amazon.com for just $59.99.
You can download the free Facebook for iOS app on the Apple App Store.