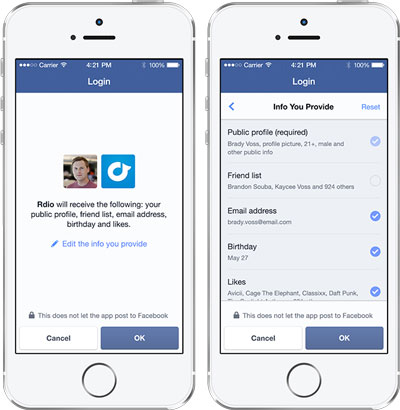 If you use smartphone apps, chances are one of them uses Facebook for authentication purposes – specifically, "Login With Facebook," the one-touch button that shares your personal information without you needing to fill out a form. Today, Facebook announced two major privacy additions to this app-login procedure: Anonymous Login and a new app permissions editor.
"Anonymous Login lets people log in to apps so they don't have to remember usernames and passwords, but it doesn't share personal information from Facebook," the company wrote on its official newsroom blog. "People can decide later if they want to share any additional information, once they understand more about the app."
Another change to Facebook Login will empower you to view the permissions you've granted to each individual smartphone app that interfaces with Facebook and edit them line by line. You no longer need to agree to an all-or-nothing information sharing scheme. You can see this new feature in action in the instructional video below.
The only downside to this privacy change: These new Facebook Login features aren't in everyone's hands yet. The company promises that both will be "rolling out over the next few months."