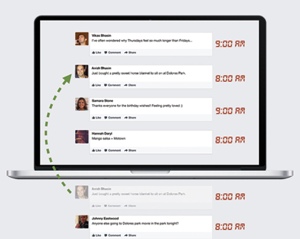 Social network Facebook announced this week that it is making changes to your news feed to increase its focus on articles and other "high quality" content.
"Starting soon, we'll be doing a better job of distinguishing between a high quality article on a website versus a meme photo hosted somewhere other than Facebook when people click on those stories on mobile," says Facebook engineering manager Varun Kacholia in a statement to USA Today.
Currently, your Facebook news feed is populated with items based on a series of complicated computer algorithms. If a friend's status update gets a lot of Likes from shared friends, for example, you're likely to see it near the top of your news feed even if it was posted a while ago. Now, popular news articles and opinion columns will now be prioritized too, but only if Facebook thinks you'll be interested in reading it. You'll also be more likely to see older news stories if your friends are still making recent comments about it.
This may also mean seeing less meme images of adorable kittens with sarcastic captions. Improvement? You can decide when they changes are rolled out to your account in the near future.