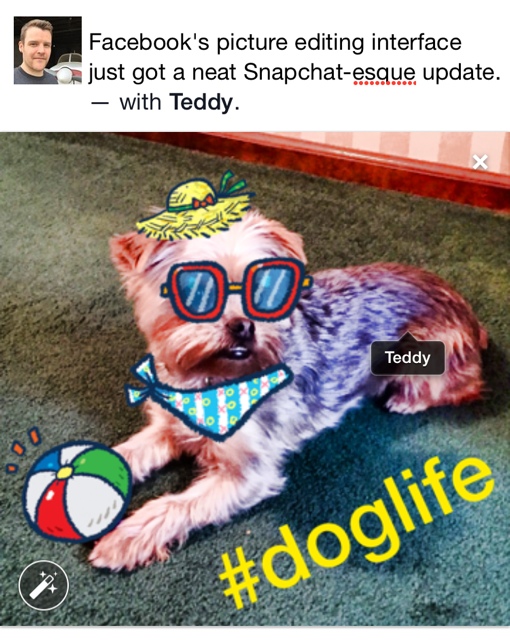 Facebook's photo editing interface just got an interesting update. This week, the social media company began rolling out a new photo-editing suite to users of the Facebook iOS app, with a similar update coming to Android users soon. The suite allows you to swipe between different filters, easily add Facebook stickers to photos and add text to photos in your choice of size, orientation and color.
"People want to be creative when they share experiences with their friends and family on Facebook," the company said in a statement. And, surely, being able to easily change color filters, crop, add cartoon clip art and add personalized text gives you a lot of room for being creative and having fun. It's like having a flexible, digital version of scrapbooking all in one place inside the app.
To access these new tools, simply begin using the Facebook app to upload a new picture as usual. Once you've added the pic, tap it to enter the editor. You'll see a number of new, clearly labeled features in the editor's lower menu, including stickers and the text feature. Anything you add can be manipulated by standard smartphone gestures – a sticker or line of text can be shrunk by pinching it, for example, or dragged across the screen with your finger. You can also rotate items by using two fingers to turn it into place.
Note that if you haven't used Facebook stickers on your photos before, you'll need to download some off the Facebook Sticker Store first. (Don't let the name mislead you – all these stickers are downloadable for free.) You can access the Facebook sticker store by tapping the Sticker menu icon, then the smiley icon with the plus sign, then the new plus sign menu option that appears on the left.
According to TechCrunch, Facebook has also added a number of new swipeable filters that make it easier to compare what your picture currently looks like and what it will look like post-filter. These filters, not yet available in the version of the editor Techlicious tested, reportedly include new "Vintage," "Spring," "Summer," "Fall," "Winter," and "Snow" filters. You should be able to switch between these with a swipe of your finger over your photo, when available.
Again, most of the new photo-editing interface should now be available to users of the Facebook app for iOS; these features will be arriving to Android soon. You can download the free Facebook app on your iOS device by visiting the App Store; Facebook for Android is available on Google Play.
[Image credit: Techlicious via Facebook app]