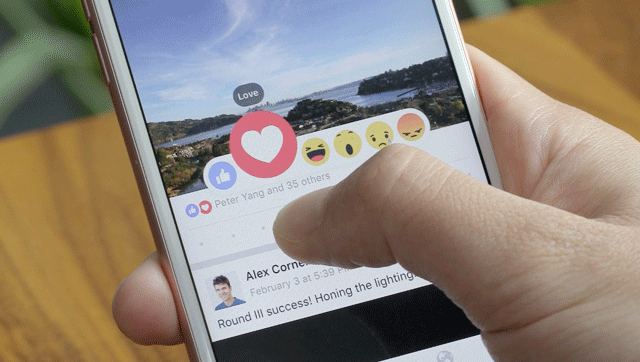 It's the end of an era for Facebook: Beginning today, you will be able to do more than just "like" a post with new emoji-like reactions.
As long as the Facebook like has existed, there have been people who requested a dislike option. Previously, it would look like people were expressing approval for everything they would like on the social network, even when that something was sad or maddening. Semantically, liking a post about a person's illness or politically incorrect gaffe inherently feels and sounds terrible.
Fortunately, the new reactions system lets you better show how you truly feel. To use a reaction, hover your cursor over the Like button on your computer or hold it down on a mobile device. You're then given the option to use a heart, laughing face, sad face, shocked face and angry face to show what you think of someone's post. On mobile, the emojis are animated during the selection process.
Facebook decided on this first set of emoji reactions by scanning the comments sections of posts. They found that one word replies like "haha" and "wow" were incredibly common, and after implementing a sticker comment feature last year, users could better express their emotions. After all, those one word comments and Minion stickers say a lot about the feelings a post invokes. The reactions proved popular with the test users in Spain and Ireland who tried them out first.
Facebook has rolled out a ton of new features lately. Live video lets users livestream whatever they're doing straight into the Newsfeed, and debuted to everyone at the end of January. The addition of animated gifs have livened up the social network, as well.
It's been rumored that Twitter could roll out a similar feature to Facebook's reactions, as users expressed discontent when the site's favorite button was turned into a like a few months ago. Because the struggling Twitter is always looking to gain more popularity, these emoji reactions might be on the way, as well.
It's a feature we definitely ♥ .
Follow Techlicious on Facebook to try out the new reactions yourself. And if you're wondering who unfriended you, there's now an app for that.
[Image via Facebook]