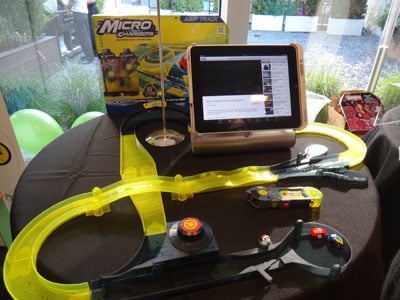 If you're feeling the need for speed, then a new line of cars slated to launch this month might fit the bill. Micro Chargers by Moose Toys (makers of Mighty Beans) are releasing a new line of miniature racing cars that charge in only eight seconds and pack some miniature size speed.
Here's how they work: Micro Chargers come with a handheld charger that you plug the car into, wait a few seconds, and then launch on the floor, or on one of three tracks. While the cars are designed for kids 6+, the quick charge is short enough to keep younger kids engaged without losing their attention in between uses.
The cars are sold in two different models, stunt cars and race cars, and there are over 30 models that will be available at launch. So how fast are these cars? According to Moose Toys, they race at "scale speeds of up to 600 miles per hour" – now that's fast. Having seen them in action, we have to admit that they are pretty speedy.
Micro Chargers retail between $5.99 and $34.99, depending on whether you're buying the Booster Pack (includes one car + a trading card) or different tracks, and are available at Toys "R" Us among other select retailers. (Find the lowest price on Amazon.com)