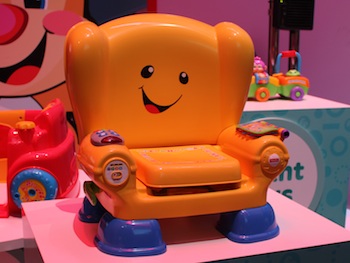 Furniture designed for tiny tots is adorable, and kids love having chairs and tables sized just for them. That just one of the reasons why the Smart Stages Chair is destined to be a hit. This isn't just a passive piece of furniture. It's full of fun activities to teach kids their ABCs and 1-2-3s.
The best part? It can sense that children are getting older and automatically adjusts the learning levels to match their age. The Smart Stages Chair's seat sensor can tell when your child sits and stands, using this as part of some of the learning games. That same technology also measures kids' weight. As children grow, the chair recognizes that and raises the learning level. Parents can set the level themselves too (not all kids grow at the same rate, after all) or leave it to advance automatically.
The chair includes other interactive areas such as a fake remote for number play and a flip book for simple stories and songs. All the learning content is aimed at kids 18 to 36 months, though you may opt to keep the chair around longer until your kid outgrows it completely. The seat offers a small amount of storage and could live on as a place for tiny toys or coloring tools (or a pet bed!).
The Laugh and Learn Smart Stages Chair will be available in June of this year.
Price: $40 at fisher-price.com