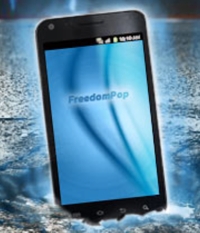 If you're feeling the pinch of ever-increasing cellphone bills, wireless provider FreedomPop would like to have a word with you. Starting today, the company has begun offering mobile phone plans including data, text and voice for the astoundingly low price of absolutely nothing. That's right: FreedomPop is free.
Predictably, there are a few catches, but none of them are necessarily deal breakers. To use the service, you'll need a Sprint Android phone that's currently out of contract. If you have your own, you can sign up for free; if you don't have a Sprint phone like the HTC Evo 4G, you can buy a refurbished one direct from FreedomPop for anywhere between $99 and $199.
Once signed up, FreedomPop subscribers will get unlimited SMS texts, 200 minutes, 500MB of free mobile data per month and free mobile-to-mobile calling to the company's other subscribers. More minutes and data are available for a fee – prices start at $10 for unlimited calling and about $18 for 2GB of data.
The service operates using Sprint's WiMAX data network, which means service will be noticeably slower than the superior 4G speeds offered by major carriers. And even then, using FreedomPop's data network at its full, slower speed will cost you an extra $3.99 per month. Still, with all the extra bells, whistles and fees attached, FreedomPop's cost comes in well under that of its competitors.
If you depend on your cell phone for work, then you'll probably want to keep your premium wireless plan – a bargain-priced plan from FreedomPop or a competitor like Zact isn't for you. But if you're looking for a low-cost alternative to traditional cellular contracts, FreedomPop offers a terrific way to keep your family connected at the very reasonable price of absolutely nothing.