Review of the HTC EVO 4G LTE (Sprint)
Techlicious editors independently review products. To help support our mission, we may earn affiliate commissions from links contained on this page.
HTC EVO 4G LTE review summary
The HTC EVO 4G LTE is a fantastic phone. It offers everything we loved about its sister phones the HTC One S and One X, while adding meaningful new ones, such as an external microSD card slot and HD Voice capabilities. In fact, we liked the HTC EVO 4G LTE so much, we awarded it the Best Smartphone at CTIA.
So it must be a shoo-in for our Editor's Choice Award on Sprint, right? Not exactly.
In the same way the best sports cars are only as good as the tires they run on, a cell phone is only as good as the network it's paired with. And today, the Sprint network is unable to do this phone justice. Read on to learn why.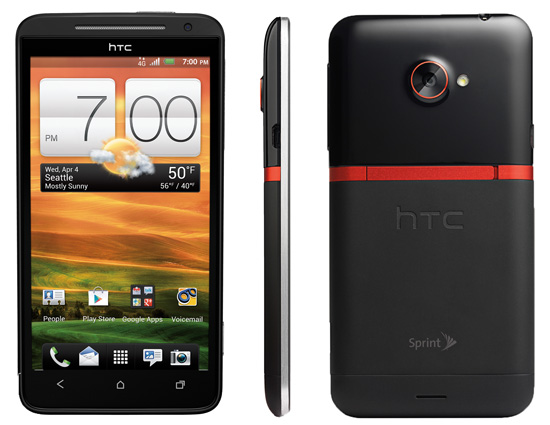 Case Design & Build
The EVO 4G LTE shows off what a great job HTC did making a very large phone comfortable to hold, with a slim profile and rounded edges. I still prefer the 4.3-inch display on the HTC One S to the 4.7-inch display on the EVO 4G LTE, but I would be very happy with either.
Buttons are easy to locate (though the top power button could be raised a little more) and the EVO 4G LTE offers a dedicated camera shutter button that the One S and One X do not.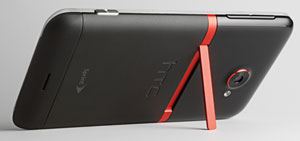 The case design, with its mixture of matte black aluminum, glossy black plastic and red racing stripe, is definitely masculine. I like the look, but the glossy plastic is more prone to fingerprints.
The racing stripe contains a convenient pop-out piece of aluminum that acts as a kick-stand for movie watching or as a desktop alarm clock.
Display & Sound
The EVO 4G LTE has the same 4.7-inch HD (1280 x 720) Super LCD screen as the One X, using Gorilla Glass to protect against scratches and breakage. Colors were rich, contrast was excellent and the phone offered plenty of brightness, even in sunlight. For those interested in pixel density comparisons, the EVO 4G LTE pixel density of 312ppi is just a hair below the iPhone 4S at 326ppi.
Call quality on the EVO 4G LTE was very good, as was the speakerphone, but what really makes the EVO 4G LTE stand out is its support of HD Voice. HD Voice is a wideband voice technology that results in clearer more natural voice transmission and can greatly reduce background noise.
When I demoed HD Voice on the EVO 4G LTE back in April, I was blown away by the improvement it offered over standard voice.transmission. But there's no way to experience that difference for yourself now. Sprint won't begin rolling out HD Voice until late 2012, and it won't appear in most markets until sometime in 2013. Even then, HD Voice requires both users to have an HD Voice capable device, which is probably only likely to occur in 2014 and beyond.
Web browsing & network
The one big letdown on the HTC EVO 4G LTE is Sprint's network. Contrary to what's promised in its overly acronymed moniker, the HTC EVO 4G LTE doesn't offer either LTE or any other variant of 4G (e.g., WiMAX), at least not yet. The phone is perfectly capable of LTE, but Sprint will only have LTE upgrades in six markets—Atlanta, Baltimore, Dallas, Houston, Kansas City and San Antonio—by mid-2012. The rest of us will need to wait, until later this year or sometime in 2013.
Until that 4G rollout takes place, we're stuck with Sprint's painfully slow 3G network. In my testing across three cities, I rarely broke the 1Mbps barrier for downloads—about 20x slower than phones on AT&T's or Verizon's LTE networks and 5-8x slower than phones on Sprint's own WiMAX network. Though if you usually have access to Wi-Fi (e.g., at home, work or Starbucks, for you caffeine junkies), the lack of LTE will not be as much of an issue. And Sprint is the only carrier that still offers unlimited data.
Camera & video recording
The HTC EVO 4G LTE has the same camera as on the HTC One S and One X, which I was a big fan of in my review of those devices. The more I use these new cameras from HTC, the more impressed I am. Here's the rundown on the camera (largely cribbed from my One S review).
It is clear that someone at HTC asked the question, "What can we add to the camera to actually make it more useful, not just more complicated?"
To answer that question, HTC gives us a handful of new features that facilitate photo and movie taking.
The first is simple—combine the photo capture and video record button in one place. No more shuttling between screens to shoot photos and video. In the same vein, you can now also capture full resolution images while shooting video. The other useful improvement is a burst capture mode that lets you take 20 or more photos, at 5 frames per second—you pick the best one and then the rest are automatically deleted.
The 8MP camera also sports superfast capture—an estimated 0.7-second shot time and a 0.2-second autofocus—and an f/2.0 lens that HTC says captures 40% more light than other smartphone cameras and should offer better low light performance.
The HDR mode delivers incredible results in low light (better than the low light mode, in fact). HDR doesn't work well for moving subjects—you'll end up with odd double-exposure artifacts—but for still subjects, it can be nothing short of miraculous. The "Group portrait" mode also works as advertised to reduce closed eyes and frowning in group shots.
In addition to the scene modes, the EVO 4G LTE has numerous Instagram-like effects for adding a little artistry to your shots.
The quality of the 1080p video was excellent, as well. Possibly the best on any smartphone I've tested. The EVO 4G LTE slow motion video feature actually comes in quite handy—I used it quite a bit to help my son analyze his batting stance in little league and my daughter review her Tae Kwon Do kicks (flashes in the video are from a separate camera taking still shots).
Keyboard & Navigation
The EVO 4G LTE runs Android 4.0.4 Ice Cream Sandwich with HTC's Sense 4 skin. Those new to Ice Cream Sandwich and Sense 4 will appreciate the improvements, such as the ability to see mini-icons of apps in folders and unlock the phone with face detection. Engadget has a full review of HTC Sense 4 for those that want to dive into the details.
The 1.5 GHz dual core processor and 1GB of RAM had no problems handling navigation without lag. For those complaining about the HTC phones not using the quad core processors available on the European variants, I say, "meh."
The lack of bloatware on the HTC EVO 4G LTE is worth a mention. Thank you, Sprint, for not following in the footsteps of your competitors and loading up our devices with useless crap that can't be uninstalled.
Storage
One of the significant benefits the HTC EVO 4G LTE offers over the One line is an external microSD care slot, in addition to the 16GB of onboard memory. Plus, you get 25GB of free Dropbox storage for two years. Definitely a boon for media junkies.
Battery life
The EVO 4G LTE has a 2000mAh battery that provides excellent battery life. I had no problem getting through the day and into the next under normal usage. The battery is not removable.
Pricing and availability
The HTC EVO 4G LTE is available from Sprint
for $199.99 or Amazon Wireless for $149.99, with a new, two-year customer agreement.
Should you buy it?
The HTC EVO 4G LTE is a fantastic phone. From its camera to its battery life to its display, the EVO 4G LTE really shines. And it includes features such as HD Voice and an external microSD card that even put it ahead of the HTC One S & One X. It really does deserve our best of CTIA Award.
But buying a phone is also about the network. And here, you're sure to be disappointed. LTE will only be available in a handful of cities for most of this year, and HD Voice won't be fully implemented until late 2013, and then you'll still need to be talking with another HD Voice device to get the quality benefits. In the meantime, you don't even get access to Sprint's somewhat speedy WiMAX network; you're stuck at 3G speeds that are 10-20x slower than the fastest networks on AT&T, T-Mobile and Verizon.
So, if you're in Atlanta, Baltimore, Dallas, Houston, Kansas City and San Antonio, where LTE should be in place soon, the EVO 4G LTE is the best thing going right now on Sprint (and probably any carrier). But if you're not, purchasing an EVO 4G LTE today is a gamble on the future—a future where Sprint has not yet revealed the odds. It would be better to wait and see what happens before committing (prices will almost certainly come down), unless the excellent camera and battery life sway you otherwise.
Rating: Highly Recommended or Neutral, depending on where you live

Detailed Specs
Talk and Standby Time: Up to 7.5 hours talk time
Band/Modes: CDMA 800/850/1900 MHz
OS: Android 4.0.4 Ice Cream Sandwich
Weight: 4.7 oz
Dimensions: 5.31 x 2.72 x 0.35 inches
Battery: 2000 mAh
Display: 4.7" HD Super LCD (1280 x 720)
Video: 1080p
Camera: Rear-facing 8.0 megapixel, Auto Focus, LED flash
Front-facing Camera: 1.3 megapixel
Mobile hotspot: Yes
Processor: 1.5GHz Dual Core Snapdragon Qualcomm MSM8960
Memory: 1GB RAM, 16GB onboard storage with microSD expandable to 32GB, plus 25GB Dropbox storage
Discussion