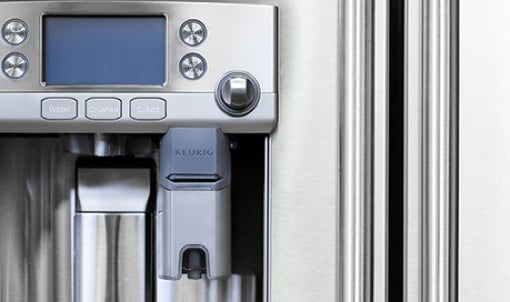 My family loves the convenience of our Keurig coffee maker – it lets us make cups of coffee on-demand. But can the push-of-a-button convenience of the Keurig actually get more convenient? With the newly announced GE Café Series refrigerator with Keurig K-Cup Brewing System, it can – it's the world's first refrigerator with a single-serve hot drink dispenser built right in to the door.
"Over the last couple years, GE surveyed Café French door refrigerator consumers who have the hot water feature; they asked us, 'When can we have a refrigerator that dispenses coffee or tea?' In fact, two-thirds said they'd be interested in a single-serve hot beverage dispenser," said Dan Goldstein, refrigeration marketing manager for GE Appliances. "This inspired GE and Keurig to pursue the development of the industry-first, built-in, single-serve brewing system from a refrigerator."
The new stainless steel GE refrigerator simplifies the already simple Keurig process by automatically drawing and filtering fresh water – there's no reservoir to constantly fill and clean. It's also a nice space saver, since it frees up kitchen counter space you might otherwise dedicate to your coffee maker. The Keurig K-Cup brewer component is dishwasher safe for easy cleaning. And since its 2015, you'd better believe this fridge is connected – you can use your smartphone to preset brew times so your favorite coffee or tea will be ready when you want it.
The GE Café French door refrigerator with single-serve K-Cup brewing system (CFE28USHSS/CYE22USHSS) will be available in the third quarter of 2015. It won't come cheap, though – it carries an MSRP of $3,300. To learn more, visit www.geappliance.com.