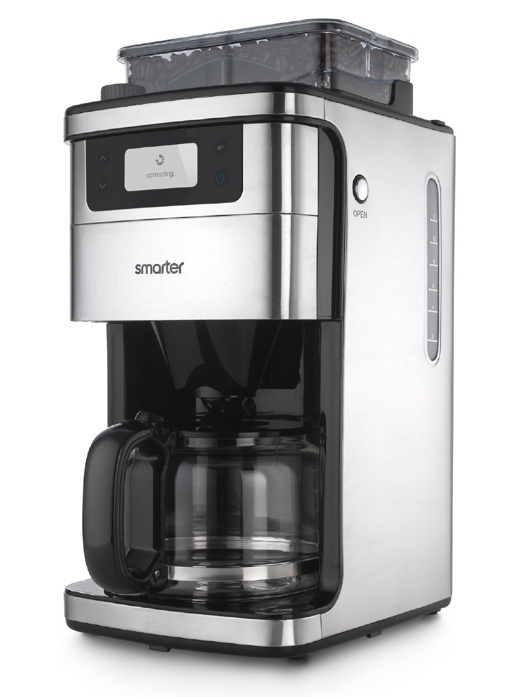 Are you a true coffee enthusiast? If so, you'll love this: Today at CES 2015 in Las Vegas, U.K.-based company Smarter unveiled the Smarter Coffee, a Wi-Fi-enabled bean-to-cup coffee maker that can be controlled from your favorite mobile device.
Smarter Coffee goes beyond the realm of the simple coffee maker – it truly is a smart device. You can check water reservoir levels, customize brew strength and select the number of cups (up to 12) to be brewed directly from the Smarter app. You can receive alerts when the coffee maker is almost out of water or beans, and in case you ignore those warnings, Smarter Coffee is smart enough not to turn on if it's missing an ingredient. And if you want to get really fancy, Smarter Coffee interfaces with the IFTTT automation app so you can create your own custom coffee-brewing rules (brew a cup only when the local weather is below 40 degrees, for example).
What I really like about Smarter Coffee is that it's an environmentally friendly alternative to the Keurig. Because beans are ground on demand with little work required from you, every cup of coffee is as fresh and easy as you'd get with a K-cup. And there's no unnecessary waste either – Smarter uses an easily removed and cleaned mesh filter.
More of a tea connoisseur? Don't worry – Smarter also makes an Wi-Fi-enabled iKettle. It allows you to customize water temperature, crucial for keeping sensitive green and white teas from scalding. And, of course, it has most of the smart features of the Smarter Coffee, like app-based brewing and smart scheduling.
Smarter Coffee and the iKettle will both be available in different colors and finishes in the U.S. and Canada starting in March 2015. The coffee maker will set you back $199.99, while the kettle will retail for $129.99. To learn more about either, visit the company's website at http://smarter.am.
[Image credit: Smarter]