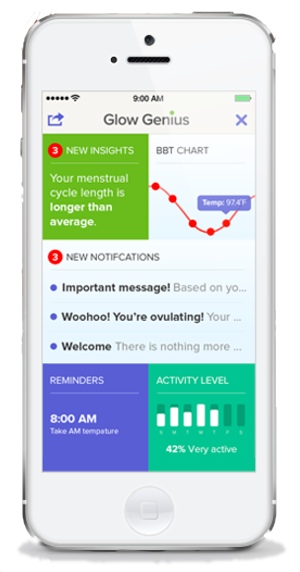 From in vitro fertilization to modern fertility drugs, technology has been helping parents conceive children for decades. Now, there's an app for that.
Glow is an iOS application designed to help those trying to get pregnant maximize their chances of conceiving a baby. It tracks ovulation cycles and body temperature to recommend the most productive times for having sex, offers tips for boosting fertility and provides reminders about taking prenatal vitamins and medications. There's even a mirrored companion app for future dads, so they can stay in the loop too.
The most recent update to Glow takes data collection one step further. Through a partnership with the popular MyFitnessPal app, Glow tracks what you've been eating and analyzes how it affects your chances of getting pregnant. After all, according to Parents, "staying well nourished boosts your odds of conceiving." Glow also tracks your activity level, since healthy body weight can improve ovulation.
If you've been trying to start a family, there's no harm in giving Glow a try. It's free, and it has no in-app ads of any kind. Anything that takes a little stress out of the fertility process is a good thing – after all, excess stress can impact your chances of conception, too.
Glow is a free download for iOS devices on the Apple App Store. To learn more about Glow, visit the company's website at glowing.com.