The Google Gmail for Android app has just gotten an incredibly useful new feature that unifies your digital life into one single location. You can now link all your various email addresses to one single Gmail interface, allowing you to read from all inboxes at once, apply conversation view styling to messages received on non-Gmail accounts and offers enhanced search autocomplete for your email. The update was unveiled on Monday, though it is being made available on a rolling basis, so you may need to wait a couple days for the changes to show up on your device.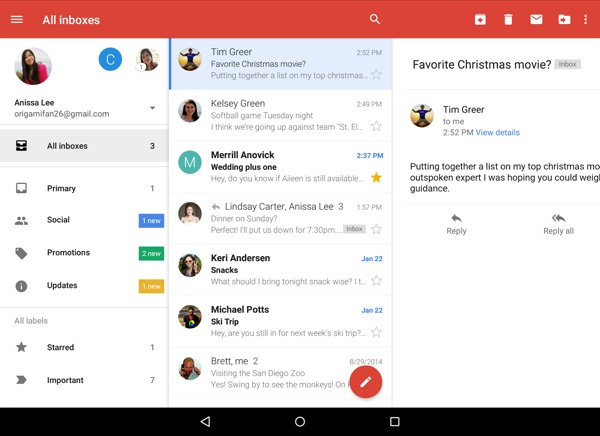 The new All Inboxes feature is a great one that I've been crossing my fingers to get for some time. It lets you manage the multiple email accounts you might have created for work projects, Craigslist ad replies, and other purposes. You get to choose what accounts are linked through Gmail, including Outlook accounts and Yahoo Mail accounts. This way, you can have access to all your e-mail through the use of a simple one-touch "All Inboxes" button located in the menu tray.
Linking your Yahoo and Outlook accounts to your Gmail app lets you use those email accounts through the Google interface, which offers a handful of design advantages. One of these is Conversation view, where back-and-forth email conversations appear on your screen in a more concise messaging app style. It makes dealing with incredibly long threads much easier.
Finally, it's worth noting that the Gmail app's search feature got a nice upgrade as well. The autocomplete function is now more intelligent and better tailored to your individual use. Start typing the word "Monday" into the search bar, for example, and Gmail will suggest possible search terms it believes are most likely to correspond with what you're looking for.
Many Android devices come with a version of Gmail already installed, so accessing the new features is a simple matter of waiting for your phone to update. If you don't already have the free Google Gmail app, you can download it by visiting Google Play.
For more useful Gmail features, check out these 5 tips for getting the most out of your Gmail account.
[Image credit: Google]