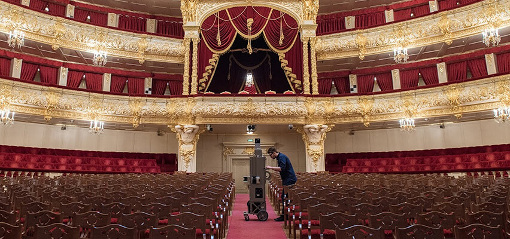 Thanks to a Google Cultural Institute partnership with 60 performing arts organizations from around the world, you can now watch performances such as Ludwig van Beethoven's "Symphony No. 9" performed by the Berlin Philharmonic in 360-degree high-definition video for free, right in the comfort of your living room (or even at your desk).
Thanks to Google, you'll feel like you're right there, watching musical, theatrical and dance performances in 360 degrees in a presentation similar to Street View, which lets you turn your screen view full circle in whichever direction you choose. Google's cultural arm announced in early December that alliances with performing arts centers worldwide such as New York's Metropolitan Opera and the United Kingdom's Royal Shakespeare Company will allow it to bring the performing arts to desktop and mobile users all over the globe.
Time, travel and the cost of a seat can prevent music and theater lovers from seeing performances they would otherwise love to attend. YouTube and other videos can't come close to replicating the theater experience. The Cultural Institute initiative takes digital performance videos to a different level by giving viewers a more immersive experience. Imagine being able to hear and watch an orchestra perform as if you were right there in the middle of all those violins and cellos and flutes and oboes. Even if you're on the opposite side of the planet, you won't need to book a flight just to experience "In the Hall of the Mountain King" performed by the Philadelphia Orchestra
The 360-degree immersive performances add to the Cultural Institute's virtual collection of visual works, street art and "world wonders" such as Pompeii and the palace of Versailles that Google has been compiling since 2011. If you have a virtual reality headset such as Google Cardboard or Samsung Gear VR, the experience will be all the more immersive.
To start watching the cultural exhibitions in 360 degrees, visit the Google Cultural Institute website.
[Image credit: Masks with the theater concept via Shutterstock; Google Cultural Institute ]