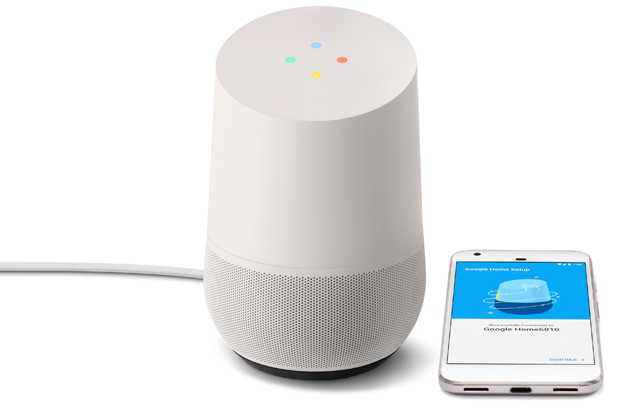 The first to compete with Amazon's Echo and its built-in Alexa household assistant will be the long-rumored Google Home, an Echo-like Bluetooth speaker/assistant announced alongside the companies new Pixel phones. Home will sell for $129 – $50 less than Echo – and can pre-ordered today; it's due to start shipping in 4-5 weeks.
In addition, Google also unveiled the new 4K-capable ChromeCast Ultra media streamer ($69).
Like Echo ($180) and its smaller siblings, the Tap ($99) and Dot ($50), Home is a Bluetooth speaker connected via Wi-Fi to the internet and able to answer informational questions using Google Assistant. Google Assistant lets you search Google, deliver voice commands to compatible devices to perform specific functions, act as a reminder or alarm clock, and ask "Tell me about my day" to get your daily or travel itinerary, information on the weather, your commute, your calendar, and a news briefing from a source of your choice. And, similar to Echo, Home can be voice commanded to play the radio, podcasts or news, and individual songs, playlists, artists or albums from Spotify, Pandora and TuneIn, and especially Google-specific YouTube Music and Google Play Music; iHeartRadio will be added soon.
Unlike Echo, however, Google Home doesn't connect to any shopping experience or online store similar to Amazon right now, the capability to add to your shopping list is built-in. Google demonstrated shopping, restaurant and Uber car ordering, and promises that shopping partners will be added soon.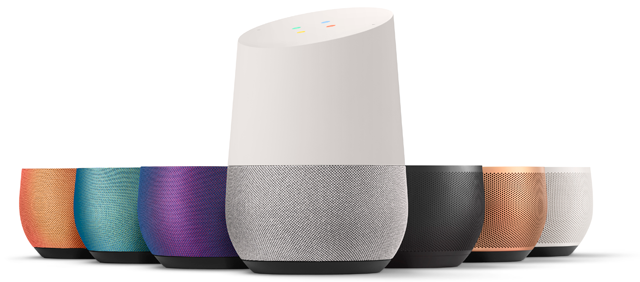 Physically, Home is squatter than Echo, white instead of black with interchangeable cloth mesh twist-and-pull removable bases available in seven colors.
The Google Ecosystem Advantage?
While Home shares many functional similarities with Echo, it offers one distinct advantage: the Google Android ecosystem. Amazon's voice-command Alexa has to be baked into new products to be be Echo compatible. Android, however, available on more devices than another other operating system, and has a long record of being easy to integrate.
Out-of-the-box, you'll be able to voice control speakers with a Chromecast Audio plugged in or Chromecast built-in, to voice cast content to any TV with a Chromecast plugged in or Chromecast built-in, and cast content from YouTube. You'll also be able to stream audio from your Android or iPhone to Google Home over Wi-Fi via one of the 100-plus Chromecast-enabled apps, and control Google's Nest thermostats.
Like Alexa and Apple's HomeKit, you can use Home to group compatible devices together. In addition, Home lets you communicate via an Android phone such as Pixel, and "chat" via your Android phone through Google's Allo smart messaging app.
Outside of Android, you'll be able to control lights, thermostats and switches from smart home systems including Philips Hue, Samsung SmartThings and IFTTT, with more integrations promised.
While that may not sound like much of an ecosystem advantage, Google promises to grow the to support popular Chromecast apps like Netflix and Google Photos in the near future.
Are there other Echo-like speaker/assistants coming? Samsung has promoted a similar device called "Scoop," and Apple has been rumored to working on a Siri-compatible speaker assistant as well.
4K Chromecast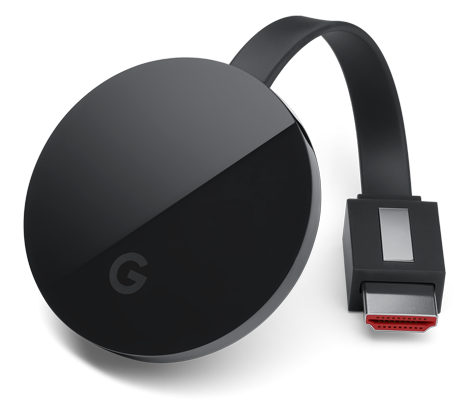 Also following Amazon's FireTV and Roku, Google now offers its own 4K media streamer, the Chromecast Ultra ($69). However, unlike Home, Chromecast Ultra isn't yet available for pre-order; instead, you have to add your email address to a waiting list.
Like previous Chromecasts, the Ultra can be controlled from an Android of iOS smartphone or from both Windows and Mac PCs, mirror content from an Android phone to your 4K TV, and can be voice-commanded from Google Home. And it maintains its predecessor's compact, hockey-puck size.
For 4K, Chromecast Ultra is HDR-compatible to get higher-contrast fare from Netflix and YouTube (but not, of course, Amazon), and includes an Ethernet adapter for a direct wired connection in case your Wi-Fi is a bit hinky for streaming such highly-demanding content as 4K, which usually requires around 25Mbps service.
[Image credit: Google]