This year, Google's annual developer conference, Google IO, was all about artificial intelligence (AI). While the company announced a bunch of new features, most of them focused on using artificial intelligence and machine learning to make our gadgets a little smarter — and our lives a little easier.
That's a great goal, but "smart" devices can sometimes disappoint, with features that turn out to be frustrating rather than time-saving. But Google is making a big push to add useful intelligent features to its product lineup, and we're hopeful these smart features will pan out. Here's a look at the new and improved features coming soon to Android, Assistant, Maps, News and a whole lot more.
Google Assistant can have completely natural conversations
Talking to your average voice assistant doesn't feel quite like talking to a person. You have to start each request with a certain wake keyword and then assistants can usually only understands certain commands and syntaxes. But Assistant is adding something Google calls "Continued Conversation." This means you don't have to precede every request with "Hey Google." Instead, after waking it up, Google Assistant can tell when you're asking it a follow-up question. It can even tell when you're talking to it and when you're talking to someone else in the room.
Assistant will also soon be able to answer multiple questions at once. Right now, if you want your assistant to do more than one thing, you will have to make two separate requests. That's not how you'd talk to an actual person, and it can feel stilted. Now, you can pack multiple questions into a single query and Assistant will understand and answer them in turn.
To complete that natural feel, you now have new six voices in Assistant — plus one recorded by John Legend coming later this year. All in all, interacting with an assistant is a lot more like talking to a person than to an AI bot.
Google can now make phone calls for you
And on the subject of sounding natural, Google Assistant will soon be able to make phone calls for you. If you want to book an appointment at a restaurant, hair salon, or another small business that doesn't offer online booking, Google Assistant will give them a call to make the appointment for you (watch the demo of Google Duplex technology above).
On the phone, Assistant manages to sound exactly like a real person. While it's a bit eerie how realistic the AI bot manages to sound, we can't deny that it's effective. Assistant can field questions and navigate conversations like a pro — it even adds "mm-hmms" and "uhhs" in the same way a real person would. When the appointment is made, it will notify you and put it on your calendar. That's a huge convenience that could save you a lot of time on hold.
The feature isn't available yet, but Google will start testing it this summer.
Maps will help you find new places to go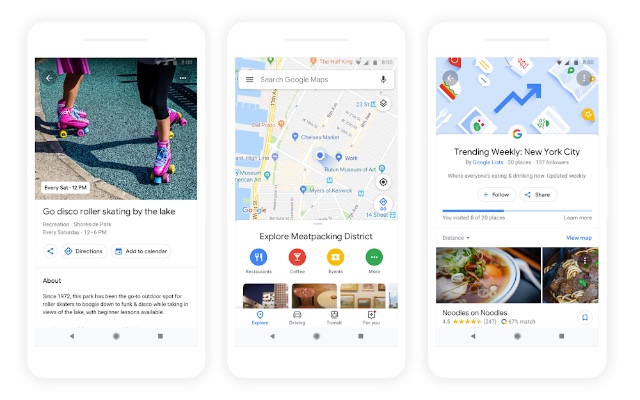 Google Maps has always helped us find where we're going, but soon it will help us find out where we want to go. Now, Maps will highlight trending restaurants and events in the area, as well as using machine learning to recommend things you might like. It will even help you decide where to go out to eat, letting you create a list of restaurants to share with your friends and vote on — which gets to the point much faster than a text message.
Though it has all of the map features you expect, it adds some of the best social features from apps like Yelp and Foursquare. It's a nice addition that makes a useful app even more useful.
It isn't available yet, but the new Maps app will roll out in the coming months.
Augmented reality is getting practical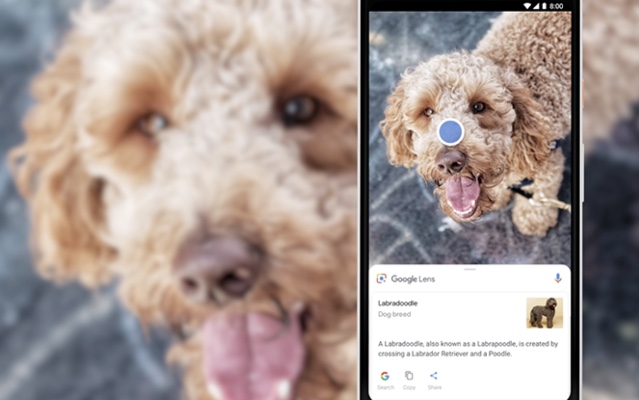 Sure, you can use augmented reality to rearrange the living room furniture or play with Pokemon, but the technology's practical uses have been more limited. But that's mostly due to the fact that the most useful AR apps have been limited to only a few phones, like Samsung Bixby and Google Lens.
Now Lens — which was previously only on Pixel phones — is coming to more phones with more features. It will soon be integrated with both Maps and the camera to provide information about the world around you. In Maps, that means it puts a map overlay on top of whatever you point your camera at. That will make it a lot easier to translate the map on your smartphone screen to the world around you — and make it a lot harder to get lost.
But while the updates to Maps will be handy, the camera features are more interesting. Just point your camera at something and Google Lens will find it and identify it. If you point your camera at a dog, it will identify the species. If you point your camera at an article of clothing, it will find where to buy it. If you point your camera at a restaurant menu, it will tell you what each item is. It's a lot like Google's everyday search feature, but without any of the typing.
The new Google Lens will be available on supported devices from LG, Motorola, Xiaomi, Sony, HMD/Nokia, Transsion, TCL, OnePlus, BQ, Asus, and Google, meaning you'll see Lens on a lot of different phones so most Android users can enjoy it. If you have a supported phone, it should be available within the next few weeks.
Google News will scour the web for the stories you're interested in
Online news can be an overwhelming a flood of information. So much is published every day that it can be tough to untangle complicated (or contradictory) news stories, or even keep up with your favorite topics.
As with everything else, Google thinks it can solve this problem with artificial intelligence. Google News will review the news for you and compiles stories you might be interested in. It will learn what you like as you go, or you can explicitly tell it that you want to see more or less of a certain topic or publisher. (And if you'd prefer to simply read the news, you can swipe over to the Headlines tab to see the day's top stories.) While there are other apps — like Apple News — that do this, Google plans to win you over with a smarter app that makes it easier to find the news you want.
But those are just the features you would expect in a news app. Google is also adding a feature it calls "full coverage." This pulls together stories on one topic so you can fully understand it. Full coverage of topics won't only include news stories: you'll also see social media posts, analysis, opinion, and a list of common questions about the topic organized into a neat list. In the end, you should be able to pick up all the nuances of the story without searching through a dozen publications for answers.
But online — or at least on Google — it's easy to get trapped into seeing only the information you want to see. That may sound great, but it can mean you miss out on alternative points of view that could help you understand a topic. This updated version of Google news has a workaround for that with an "unfiltered" news stream, that includes un-customized news from trusted sources. Though it still has some curation to filter out less reliable news sources, it keeps you from being trapped in a news bubble of your own making.
The updated News app will be rolling out on Android, iOS, and the web over the next week.
Google to help you decrease screen time
Are we addicted to our screens? The amount of time we spend on our digital devices is a big concern, and in Android P, Google wants to help you avoid digital distractions. While there's some irony in the idea of a technology company helping us spend less time staring at our screens, Google has some smart solutions.
The first step is keeping you informed about how much time you're spending staring at your smartphone screen. A new dashboard keeps track of you're spending your time, from basics like the number of minutes you've used each app to the number of notifications you've received.
If you find the numbers to be a bit startling, you can set some digital roadblocks to encourage you to set down your smartphone. You can set time limits for each app and when you reach it, the app is disabled. While you could head to your settings and change your chosen restrictions, just realizing how much time we're spending can be enough to help us back off.
An improved do not disturb mode lets you silence notifications by simply flipping over out phone on the table — after which it won't vibrate or buzz, letting you focus on the task at hand. (It will, however, let calls through from certain contacts so you're still reachable. At night, there's a new "wind down" mode, designed to help you put your phone away at bedtime. Just enter your desired bedtime: when the hour arrives, your phone will automatically go into DND mode and set the screen to grayscale. And, yes, that one simple change can really encourage you to put your phone away and go to bed.
This, as well as a bunch of other features, will be coming later this year with the Android P update.
[Image credit: Google]