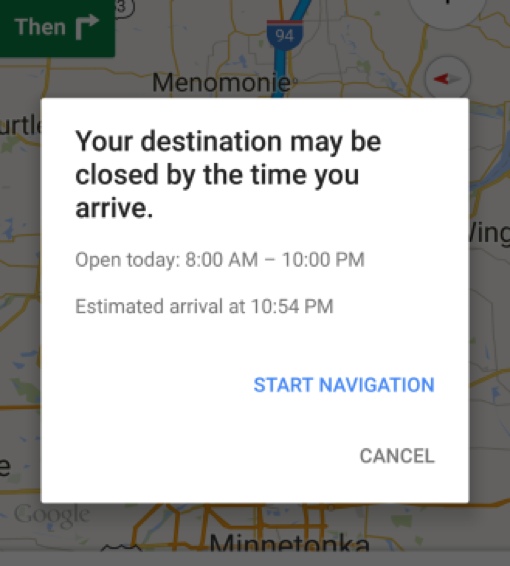 Google Maps has just launched a cool new feature: It will now let you know if a business you're trying to navigate to will be closed when you arrive. The feature is designed to work regardless of whether the business is open or closed when you begin your trip, Android Police is reporting.
The feature appears to be powered by the wealth of data in Google's business listings. As such, you'll want to take the info with a grain of salt – many businesses have seasonal hours, which Google often fails to take into account (unless someone takes the extra step to update its database). There are plenty of stores without hours of operation info, too, so naturally the feature won't work with them. So it's important to remember: Even if you don't get a warning from Google Maps, the place you're driving to may still be closed.
Closing time warnings are the latest in a long line of impressive new features for the powerful Google Maps app. It now features Lane Assist, which tells you what highway lane you need to be in to make upcoming turns, real-time crowd-sourced accident info, mass transit directions support, spoken traffic alerts and more. It's become much more feature rich than Apple's Maps, and I generally recommend people use the app when they need turn-by-turn directions.
The new updated version of Maps should be available in the Google Play store for Android users to download. You can expect the feature to roll out to Apple iOS users soon. (You can download Google Maps for iOS via Apple iTunes.) For more information on the GPS turn-by-turn directions app, check out this article detailing 9 tips and tricks for using Google Maps like a pro.
[Image credit: Google]