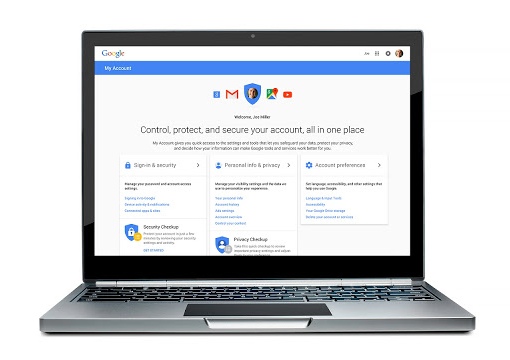 For the longest time, managing your privacy and security settings across all of Google's websites was a chore. But no longer. Today, Google announced the launch of My Account, a central location for all the tools and settings available to safeguard your data on all Google affiliated sites. Here's what you can do through the My Account site:
You can take Google's Privacy Checkup and Security Checkup, which walk you through each of the most important settings available. My Account will also tell you the date you last performed each checkup, if applicable.
You can manage how Google handles and uses the myriad of data that's available for collection. For example, you can choose whether or not Google can track your browsing history, access your phone's contacts and collect GPS data on your movements through simple off/on toggles.
You can view your Google advertising profile, correct errors, and opt-out of tailored, interest-based advertisements. You can't stop advertising entirely, but you can stop ads from getting eerily specific based on your collected data.
You can control which app and sites are connected to your Google account. This includes being able to manage passwords for accounts whose logins you've saved for autofill via Google Smart Lock.
The new My Account site is a must-visit for anyone who has used one of the many Google sites or apps in the past, including Gmail, YouTube, Google+ and Google Maps. To do so, visit myaccount.google.com. (Facebook users can learn more about managing their privacy settings by reading our complete Facebook privacy tutorial.)
Google has also created a separate website to better explain its privacy policy to users. The new site privacy.google.com has the answers to frequently asked questions about your data (e.g., "What data does Google collect?"). It also explains how your data is used to customize your experience across all Google sites. I definitely recommend all Google account holders check it out.
[Image credit: Google]