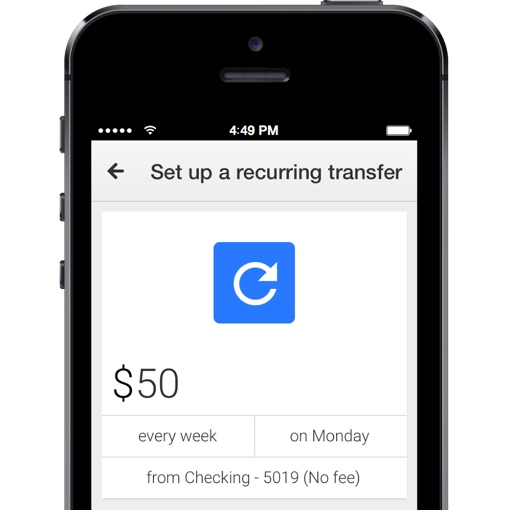 With all the recent press over Apple Pay, it's easy to forget that most Android phones users have had access to NFC tap-to-pay mobile payment technology through Google Wallet for some time. The two services aren't quite the same, of course. Apple Pay is an alternative way of using your existing debit and credit cards, while Google Wallet is more like its own stand-alone debit account that you need to constantly reload. As such, Google Wallet isn't quite as convenient to use.
But that's starting to change. This week, the Google Wallet app got a major update that brings some useful new convenience features. You can now set your Google Wallet account up to add money automatically to your account through recurring transfers and send you low balance alerts when your account drops below a pre-set threshold.
The new automatic account replenishment feature lets you choose how much money gets transferred, and on what schedule – weekly, bi-weekly or monthly. You can set up recurring transfers by tapping "Add money" and then selecting "Set up a recurring transfer." You can cancel the transfers at any time, and there are no associated fees on the Google Wallet side. To set up the new Low Balance alerts, meanwhile, tap "Low Balance alert" from your Wallet Balance screen.
You'll need to update the Google Wallet app before you can access these new features. It's currently available for iOS through the Apple App Store and for Android through Google Play as a free download.
Google Wallet funds are backed with a 100% Google Wallet Fraud Protection Guarantee and can be spent at hundreds of thousands of locations in the U.S. through NFC tap-to-pay (requires Android 4.4 KitKat or better). You can also make payments through a physical Google Wallet debit card issued by MasterCard. You can learn more about Google Wallet and its newly added features by visiting the Google Commerce blog.