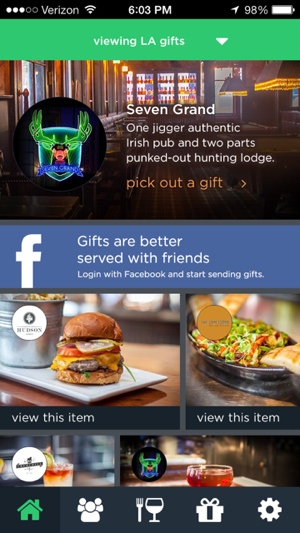 Want to buy your friend a celebratory drink or even dinner, but they're halfway across the country? No problem – this is 2013. Thanks to a startup named Gratafy, you can now send your friend a libation via email or text message.
The food and drinks are real, paid for by you via the Gratafy iOS or Android app. Once you've picked out your gift – a shot of Kentucky bourbon or maybe a slice of 7-layer red velvet cake – the recipient will be notified via text or email. They can then redeem your gift with their smartphone the next time they're at the restaurant.
Gratafy offers periodic specials with partner restaurants, too. Last week, you could have sent a gourmet burger to a friend in Los Angeles for half price. Two weeks ago, Gratafy offered a buy-one-get-one-for-yourself dessert special.
Gratafy is like a very specific type of gift card – more thoughtful, but also more restricted. You'll want to reserve the service for when you know your friend is already going to a specific restaurant, or for an item you know they'll love.
For now, the Gratafy network includes only about 250 restaurants in Los Angeles and Seattle. But it is rapidly expanding. In the meantime, you can always email your friend the gift of cash using a similar, convenient service like Square Cash. It's not as cool as getting a free Pabst Blue Ribbon in a faux-dive Los Angeles bar, but at least your friend won't need to hop on a plane to redeem it.

You can check out what restaurants participate in the Gratafy network by visiting the company's website at gratafy.com.