Review of the iPhone 5
Techlicious editors independently review products. To help support our mission, we may earn affiliate commissions from links contained on this page.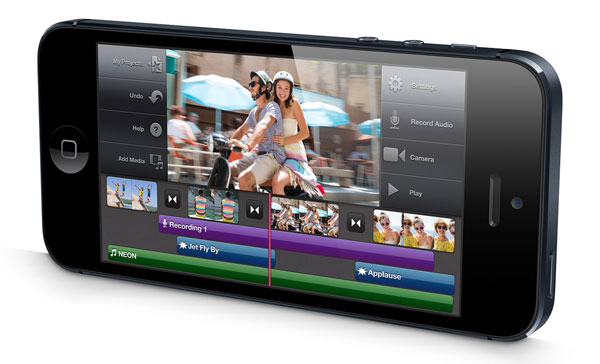 You'll read about the iPhone 5's bigger 4-inch screen and how remarkably slim and light and stylish it is, and about the pros (Facebook/Twitter integration, panorama camera, VIP email, improved Siri, voice-prompted turn-by-turn directions) and cons (the new Maps app) of the new iOS 6 operating system, but there is only one improvement you need to consider when pondering the purchase of an iPhone 5: Speed.
The iPhone 5, now with 4G LTE connectivity from AT&T, Sprint, Verizon and, maybe early next year, T-Mobile (finally), and a new custom-designed by Apple A6 processor, speeds up everything you do on this phone to blink-of-an-eye fast.
Current iPhone users will find themselves (as I did) grinning like a lottery winner at how quickly Web pages now fill, how photos now transmit faster than it took to take them, how the blue progress bar on app downloads zips across in seconds and how quickly Siri responds to an expanded number of voice commands over LTE.
Discovering how speedily my iPhone 5 now conducts all its smartphone business – considering that midtown Manhattan, like many other dense metro areas, is practically an iPhone dead zone – has been my most satisfying tech moment since getting my first iPhone back in 2007.
But there's more to the iPhone 5 than speed – some good, some bad and some…meh.
How it feels in the hand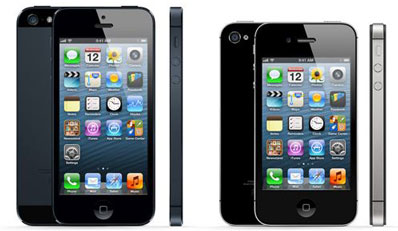 Technically, the iPhone 5 is less than two millimeters thinner (7.6 vs. 9.3mm) than the nearly identical iPhone 4 and 4S, a difference difficult to detect unless standing them side-by-side. But iPhone 5 is a far more noticeable 20 percent lighter (112 grams vs. 140 grams) than its predecessor, and naturally lighter than the giant 4.8-inch Samsung Galaxy S III (133 grams). The iPhone 5 is nearly the same weight as the now empty box it came in, despite being solidly constructed of glass and aluminum and despite its now larger 4-inch display.
The iPhone 5 is now far less bulgy if you want to stick it in your pants pocket rather than your pocketbook. But, like all iPhones, it's a slippery little devil and, along with its lack of mass, I found myself gripping it extra hard to keep it from flying out of my hand, which is a problem. After gripping it harder than you did the iPhone 4/4S, you'll soon realize its edges are a little sharp.
But these edge and handling issues – along with its lack-of-girth and aesthetic advantages – can be muted with a case.
Display
A new display technology called "in-cell" removes a layer in the panel construction, which has resulted in a thinner screen (the primary reason why iPhone 5 is so anorexic) and more sensitive touch reaction.
The iPhone 5's new 4-inch display also boosts improved color saturation, as you may be able to see in the photo (check the increased depth of colors in the curtains and the dresses).
But it's not necessarily the size of iPhone 5's screen that's the improvement here, but the shape.
The iPhone 5's 4-inch screen is longer – you get enough room for an extra row of app icons and more content (and, therefore, less scrolling). This means you get a screen with a 16:9 aspect ratio, the same shape as your HDTV when you hold iPhone 5 horizontally (which you should for all video shooting, not vertically – seriously, who ever heard of a tall movie?). As a result, videos are not letterboxed as they are on previous iPhones, enabling a much larger viewing space.
But it's hard not to admit a huge feeling of inferiority exhibiting the iPhone 5 – most new Android screens are at least a half-inch larger. You even get a 4.3-inch display on Motorola's new $100 baby Droid M handset.
Sound
At the bottom of the phone, next to the relocated headphone jack (which I'm still getting used to) are slightly larger speakers and additional mics designed to improve iPhone's aural capabilities.
Both treble and bass are boosted by iPhone 5's larger speakers, which improves group listening and speakerphone conversations and the aural side of FaceTime chats.
But I really couldn't detect much of a difference in the vocal quality through the earpiece compared to the 4S. As always, I recommend using earphones when chatting, especially in noisy environments.
Web browsing & network
Surfing the Internet or performing any connected task such as downloading apps, uploading photos, checking a map on an older 3G iPhone is akin to walking to a destination. Upgrading to 4G HSPA+ on AT&T (Verizon and Sprint's iPhone 4S is still 3G) on the iPhone 4S is more like running or taking a bicycle to your virtual destination.
The boost to 4G LTE is like using Star Trek's transporter. It's a whole new connectivity experience (at least for iPhone users), with the added benefit of getting a data connection to begin with in overloaded downtown metro areas such as New York or San Francisco.
The iPhone 5's warp speed Internet performance gets an assist from Apple's new custom-designed A6 processing chip. After conducing benchmark tests, PC Magazine proclaimed the iPhone 5 not only the "The Fastest Smartphone in the Land" but "the fastest handheld computer sold in the U.S."
There have been reports of poor Wi-Fi connections for all Apple iPxxx devices upgraded to iOS 6, but here's a fix:
Go to Settings, tap "Wi-Fi," then tap the blue arrow to the right of the network you're connected to. Scroll down to the bottom of this page to "HTTP Proxy." Tap "Auto," the third option on the right. Your iOS 6 Wi-Fi connection will now stay connected.
Camera & video recording
Apple did not upgrade the 8 MP rear camera from the iPhone 4S, but with the new iOS 6 operating system iPhone 5 now has an insanely simple panoramic mode. Open the camera app, click "Options" at the top and tap "Panorama." Hit the now larger shutter release icon, then scan across the scene you want to capture by following the on-screen line. Click the shutter release when you're done, then tap "Done" and iPhone 5 creates a startlingly seamless ultra-widescreen vista.

Because these panoramic shots retain iPhone 5's high resolution (many panoramic features reduce image density), you can end up with a hefty file three or four times larger than a normal photo.
iOS 6 also adds a multitude of integrated photo sharing and usage options, including Facebook and Twitter, and even printing if you have an AirPrint-compatible wireless printer.
The iPhone 5's front camera is now 1.2 MP and capable of 720p video. Plus, FaceTime video chatting can now be conducted over LTE cellular (but check with your carrier to make sure you have a compatible data plan) in addition to Wi-Fi. Video calls now look nearly as good as the fictional ones portrayed on TV with a lot less buffer stall, pixelation or lag (although if your video co-conversationalist is on a previous iPhone, they won't look that good to you).
But FaceTime chats do soak up the data – a two-minute call consumed 6 MP, about as much as transmitting three photos. If you're on a capped monthly bucket of data minutes, monitor your data usage if you're a heavy FaceTime user.
Keyboard & Navigation
Both LTE and the A6 processor boost Siri's productivity. Remember, Siri has to communicate with the Internet to obey your spoken commands. With more processing and a faster connection, she can now instantly open apps that you've buried in some forgotten folder or screen and otherwise respond with increased alacrity.
The iPhone's long 4-inch screen is the same width as previous iPhones, so the iPhone 5's portrait-mode keyboard remains the same width as on previous models. But in widescreen mode, the keyboard is wider, which means fewer adjacent key tap errors. Of course, you could use Apple's excellent dictation mode and save all the tapping headaches – just don't forget to speak your punctuation.
Apple seems to have tripped up on its new Maps app – the company has dumped Google Maps in its on-going war over Android. The Web is rife with reports of Maps' many missing, misplaced or non-existent places. Apple has apologized for Maps Version 1.0 bugs and promises to rectify the situation. Personally, I was annoyed it no longer indicates New York City's subways stops. But the 3D flyover satellite imagery is pretty cool.
Storage
iPhone 5 is available in the same memory configurations – 16 GB, 32 GB and 64 GB – as the 4S was last year.
Connecting jacks
Apple has replaced its bulky and annoyingly one-way 30-pin connector with a new tiny 9-pin Lightning connector, that can be slipped into the iPhone 5 in either direction. It took me a bit to get used to not checking which side was which, as you still have to do with a micro USB jack.
But this new jack voids every iPhone accessory you own. While a USB-to-Lightning cable is included with iPhone 5, a 30-pin-to-Lightning adapter is not – an extra cheap omission in my view. Worse, 30-pin-to-Lightning adapters ($29) and extra Lightning USB cables ($19) won't be available for at least another couple of weeks, surprisingly poor planning by Apple.
Earphones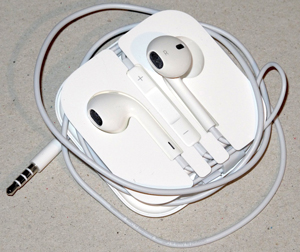 Instead of the previous iconic flat stick earbuds, you get new and improved rounder EarPods. And instead of hanging limply from your lobes, EarPods fit more reassuringly and comfortably without sonically cutting off the outside world.
EarPods come wrapped around a cable management case that you'll likely never use, but is a nice touch.
Battery Life
Apple claims you'll get 8 hours of talk time on LTE (and Apple is nearly always spot-on with its battery estimates) – the same chatting time as the 4/4S on 3G. That's far less, though, than the boost that Motorola gave its new Android Droids, which provide twice as much LTE talk time.
I recommend either a battery case when one appears for the iPhone 5 in about six weeks, or a spare power source such as the myCharge Peak 9000 or Summit 3000 to which you can connect Apple's USB-to-Lightning cable for a late-day power fill-up
Pricing and availability
The iPhone 5 is priced identically to the what 4S was less than a year ago ($199/16 GB, $299/32 GB, $399/64 GB) from the same carriers (AT&T, Sprint, Verizon) in both black and white.
Superficially, the real bargain here is the 4S – now just $99. That sounds like a great deal, except there are many $100 Android models with 4G LTE connectivity.
Should you buy it?
If you are an iPhone 3G S or 4 owner, yes, no doubt about it. LTE connectivity is a paradigm usage shift – with such a speedy connection you're able to, and will want to, do so much more much faster on the iPhone 5.
Unfortunately, iPhone 4S owners will have to wait. Since you bought your 4S less than a year ago, it's likely not eligible for iPhone's 5 full subsidized price.
If you're a BlackBerry owner or a feature phone user thinking of switching to your first smartphone, I'd recommend iPhone 5 over a comparable Android device only because iOS is easier on the smartphone neophyte than Android, and Apple's support network is superior.
But if buying into Apple's restrictive ecosystem is a concern, wait for one of the new Windows Phone 8 phones from Nokia (Lumia 920) or HTC (8X) – I find Microsoft's new smartphone OS even easier to grasp for smartphone newbies than iOS.
Rating: Highly Recommended
Detailed Specs
Talk and Standby Time: Up to 8 hours talk time, up to 9.4 days standby
Band/Modes: AT&T: UMTS/HSPA+/DC-HSDPA (850, 900, 1900, 2100 MHz); GSM/EDGE (850, 900, 1800, 1900 MHz); LTE (Bands 4 and 17)
Sprint and Verizon: CDMA EV-DO Rev. A and Rev. B (800, 1900, 2100 MHz); UMTS/HSPA+/DC-HSDPA (850, 900, 1900, 2100 MHz); GSM/EDGE (850, 900, 1800, 1900 MHz); LTE (Bands 1, 3, 5, 13, 25)
OS: iOS 6
Weight: 3.95 oz
Dimensions: 4.87 x 2.31 x 0.30 inches
Battery: 1440 mAh
Display: 4-inch IPS LCD (1136 x 640)
Video: 1080p
Camera: Rear-facing 8.0 megapixel, Auto Focus, HDR, Face detection, Panorama, LED flash
Front-facing Camera: 1.2 megapixel
Mobile hotspot: Yes
Processor: Apple A6
Memory: 1GB RAM, 16GB, 32GB or 64GB of onboard storage
Discussion