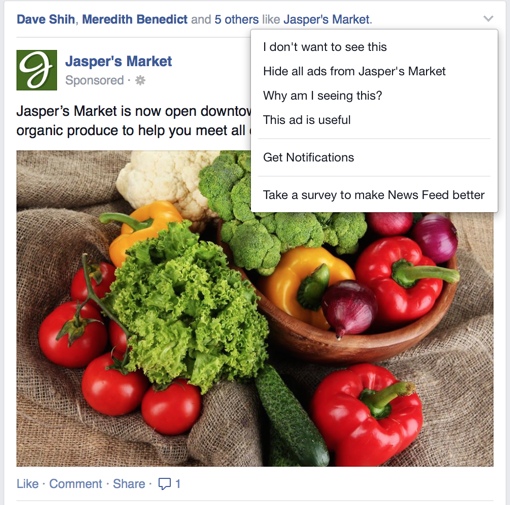 A few years ago, Facebook rolled out functionality to all users that lets us hide advertisements we find objectionable. Many ignore this "I don't want to see this" feature, hiding in the down arrow at the top right corner of the ad, because hidden advertisements are quickly replaced with new ones. Some do click and give their reason for reporting ads, however, giving Facebook a wealth of data about which ones users find objectionable. Now, Facebook has taken to its official Newsroom blog to explain how the site now uses that feedback to making your experience on the social network better.
According to Facebook Product Manager Max Eulenstein, when people start reporting an ad, the site's algorithm takes note and adjusts our News Feeds accordingly. "When testing this update, we looked at when people told us that ads were offensive or inappropriate and stopped showing those ads. As a result, we saw a significant decrease in the number of ads people reported as offensive or inappropriate. This means we were able to take signals from a small number of people on a small number of particularly bad ads to improve the ads everyone sees on Facebook."
This change means Facebook is collecting more data on you, but in this case, it may be a good thing. Each time you report an ad, Facebook also learns about the type of ads you, specifically, dislike. Once your ad profile is built, Facebook will intentionally avoid showing you ads it thinks "there is even a small chance" you might hide. The company says this change has already reduced the rate at which people hide ads by 30%.
Of course, this is only the latest "advertising innovation" to hit the social network. Last year, Techlicious revealed how Facebook algorithms stretch well beyond the boundaries of the site itself, collecting data on you even as you shop in supermarkets. And the site landed in hot water last year when it asserted the right to feature everyday users of the site, including minors and their photos, as unpaid endorsers in ads on the site.