Concerned about how much information Facebook has about what you do online? If so, you're not going to like this: The world's largest social network is unveiling Partner Categories, its new advertising system that merges its wealth of online data with your local grocery stores' knowledge of what you buy every week.
Supermarkets and drugstores have been collecting marketing information about us for years through savings club cards, and a recent marketing agreement gives Facebook access to that data. With Partner Categories live, the social network can serve you ads that directly tie into what you've been buying lately. There are advertising categories that allow companies to target "Children's Food & Product Buyers," "Condiment & Dressing Buyers," or the 14.8 million Facebook users who have been determined to be "heavy buyers of children's cereal." Advertisers can further narrow down their target audience by sex, age, location, and a number of other factors.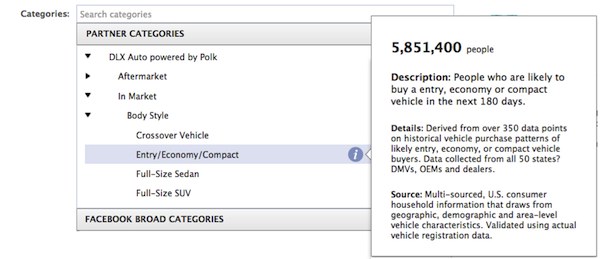 Facebook is trying to put a positive spin on the news, suggesting that Partner Categories make advertisements "more relevant for people." The company also notes that the data is anonymized – advertisers will be able to know everything about you except for your name. Still, for those of us concerned about our privacy, it's unsettling knowing exactly how much personal information Facebook itself has.
Avoiding Facebook's advertising tentacles is near impossible without giving up the site for good, but there are a few things you can do to limit your social networking ad footprint. Taking a look at Techlicious's Comprehensive Guide to Facebook Privacy Settings 2013 is a good place to start, specifically the section called "Customize your ad settings." It won't stop the deluge of advertisements, but it will at least put some limits on how your information is used.