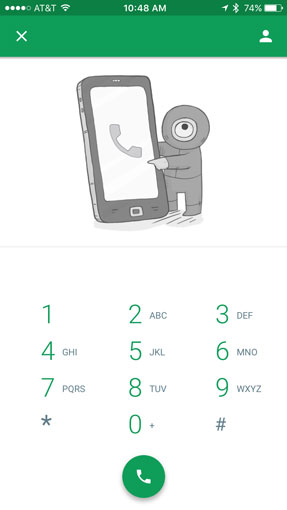 There's a neat little trick with Google Gmail that allows you to make unlimited free phone calls via the Internet. And if you have an iPhone, iPad or iPod touch, you can make calls through its Google Hangouts app. You read that right – you can make free data-based (VoIP) phone calls on any Apple iOS device.
Making a call with the newly updated Google Hangouts app couldn't be easier. Just open the app, sign in to it with your existing Google account ID and then tap the telephone icon in the top right hand corner of the screen. A phone keypad will then display so you can complete your call. And yes, you can use Hangouts to make calls to actual phones – the person you're calling doesn't need to be running a Google app or even own a cellphone.
If you've got a free Google Voice phone number, the app gets even better – not only can you make calls from the number using the app, but you can receive calls using it as well. Here's the best part: You don't even need to mess with your phone or app's settings. Calls made to your Google Voice number will appear as Hangout notifications, which you have a choice to accept or ignore. (To sign up for a new Google Voice number, visit google.com/voice and follow the prompts.)
Because Google Hangout calls are placed via a data connection, they make a great way to keep making phone calls even when you're up against your monthly minutes allowance. It's also a good way to make call to and receive calls from people you don't want having your "real" cell number, like a blind first date. And of course, any old iPod touch or iPad you have laying around the house can instantly become a second WiFi-powered cellphone.
The updated free Google Hangouts app is currently available for iOS devices via the Apple App Store. There's no cost to make calls in the U.S. or Canada via the Google Hangouts app; international rates may vary. For more on the service, visit google.com/hangouts.
Updated on 11/13/2015
[Image credit: Google]