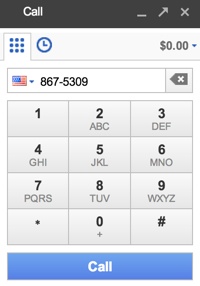 After months of fielding complaints for removing the service, Google is once again allowing Gmail users to make free telephone calls directly from their inbox, all without any kind of service contract or landline phone. Here's how to use it.
First, you'll first need to install Google's voice and video chat software. Then, just sign in to your Gmail account and look for the telephone handset icon in the left-most column of the screen, right above your list of online chat contacts. Clicking the phone icon will bring up a tiny pop-up window with a phone keypad, and … well, you should be able to take it from there.
Of course, you'll need to have a headphone set with a mic hooked up to your computer for people to be able to hear you during the call. Most modern laptops already have microphones built in, so chances are you already have everything you need to make a phone call right now.
Calls to anywhere in the United States and Canada are free from most countries. You'll need to pay to make international calls, but Google's rates are fairly low. More details are available at the Official Gmail Blog.
If you're interested in other ways to make free telephone calls via the Internet, we've got you covered there. Read up on how to make a free voice call through Facebook. And, of course, you can still make a free video or voice call using Skype on your desktop, iPhone or Android device.