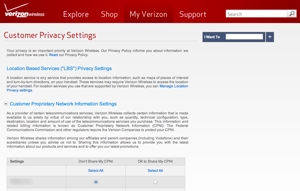 Are advertisers spying on you right this very second? If you're a Verizon Wireless customer, the answer is yes – and they probably know more about you than you'll be comfortable with. In fact, Verizon knows your exact physical location, what your income probably is, and the fact that you're reading this website right now. And through a service called Precision Market Insights, this data is being sold to the highest bidder.
According to a Wall Street Journal report on Precision Market Insights, Verizon updated its terms of service in 2011 to give the company the right to use customers' data in any way they choose. That includes harvesting and selling data on what what interests you have and, far more upsetting, where you and your family are any time a phone is on hand. Essentially, you're wrapped up into a single data point to be sold to advertisers. Verizon gets a little bit of extra money; advertisers learn how to target your exact needs better.
Current clients of the service include the Phoenix Suns. The basketball team uses Precision Market Insights to identify where its ticket holders live so it can better direct its advertising campaigns. Similarly, if everyone at your office building likes and shares animated GIFs of cats, the billboard outside your office window might get bought up by the folks at Meow Mix.
If you don't remember specifically opting out of this service, then your data is almost certainly being collected. To opt out, visit www.verizonwireless.com and click the Sign In/Register link on the top right of the screen. Once you enter in your mobile number and password, you'll need to navigate to the My Verizon menu, then to My Profile, under which you'll see an option View All. Click that, and scroll down towards the bottom of the page until you see a feature called Manage Privacy Settings. Verizon will make you go through the effort of clicking and confirming you'd like to opt out of three different types of spying and data usage, so be sure you click to save each individual change.
And while you're at it, consider taking a look at your Facebook privacy policy settings as well. The social networking site is also using collecting data on what you do when you're offline.